The president of The Church of Jesus Christ of Latter-Day Saints is being asked to take the stand in a sexual abuse lawsuit involving his daughter and son-in-law.
Fox13 reports that a motion seeking LDS President Russell M. Nelson was filed in federal court late last week.
While Nelson himself isn't implicated in the alleged abuse, attorneys for the plaintiff say he may be a witness with information worth knowing.
"Russell N. Nelson is simply a witness," said attorney Craig Nelson, who represents a half-dozen litigants.
The lawsuit, writes Fox13, claims Nelson's daughter and son-in-law, Brenda and Richard Miles, masterminded a child abuse ring in the 1980s. Complaints detail how the pair purportedly hosted "touching parties" and then used the church's influence to cover it all up.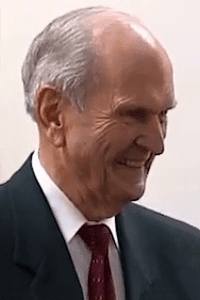 Image via Wikimedia Commons. 
But the Miles have repeatedly denied the accusations. Their attorney, says Fox13, claim the memories of abuse were inculcated by a therapist.
Nelson's lawyers say the plaintiffs' requests for an 'urgent' deposition are baseless.
"The only 'urgency' behind Plaintiffs' motion is a recognition that their entire case—and any hope of deposing President Nelson—may be mooted as soon as the Utah Supreme Court rules on the statute of limitations question posed in Mitchell v. Roberts," attorney Samuel Straight wrote in a filing. "That case is fully brief, with oral arguments presented eight months ago. A ruling is imminent."
Straight said it's strange and rather ironic that the plaintiffs might complain of a delay, as they've only just sued over accusations that date back more than 30 years.
The stories of "touching parties" and organized child abuse were similarly derided by the Miles' attorney, Jim Jardine of the Ray Quinney & Nebeker law firm. Jardine described the plaintiffs' "long-ago debunked accusations" as "patently false and deeply, utterly offensive."
"Child abuse is evil, but so is false accusation of child abuse," Jardine said.
The lawsuit, reports the Deseret News, includes nine exhibits: six declarations made by children and stepchildren who claim abuse, and three others from their mothers. A psychiatrist who treated the kids in 1986 also provided evidence.
Three of the children wrote in signed exhibits that they remember being sexually assaulted at "touching parties" by their father, paternal grandmother, the Miles and a teenage babysitter, among others.
Included in the exhibit were the graphic testimonies given to investigators in the 1980s.
But attorneys for the defense have been quick to point out that there's almost no evidence to corroborate any accusation of abuse. Independent city-, county- and state-level investigations found nothing to suggest the presence of an organized abuse ring in Utah.
While some of the Miles' remarks were deemed 'conflicting' or 'inconclusive,' law enforcement couldn't muster any evidence worthy of a warrant or criminal charges.
In fact, Utah found more than 220 claims of 'ritual sex abuse' mirrored what was, in the 1980s, part of a larger national trend—allegations of child rape and torture, remembered only after extensive therapy.
Much of the abuse scare has been attributed to an over-reliance on recovered-memory therapy, a disowned practice which has the potential to create or 'plant' false memories through hypnosis, repetition and the power of suggestion.
Sources
Decades-old Bountiful case alleges church connection to abuse allegations
Deposition of LDS Church president sought in sex abuse lawsuit
Lawyers resist speedy deposition of LDS Church president in lawsuit