Last week, ALDI, in cooperation with Olde York Potato Chips, voluntarily recalled "96 cases of Clancy's Wavy Potato Chips from limited stores" after the company discovered the "potential presence of milk resulting from product mislabeling."
---
If you're a fan of potato chips and shopping at ALDI, this latest recall notice is for you. Last week, ALDI, in cooperation with Olde York Potato Chips, voluntarily recalled "96 cases of Clancy's Wavy Potato Chips from limited stores" after the company discovered the "potential presence of milk resulting from product mislabeling." Having undeclared allergens present in products such as potato chips is a big deal because it may result in customers with dairy allergies experiencing allergic reactions.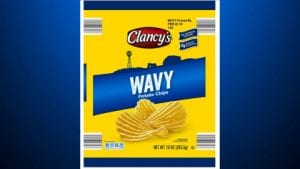 In an effort to keep customers safe, ALDI has removed the recalled bags of chips from stores throughout Ohio, New York, West Virginia, and Pennsylvania. According to the recall notice, the affected chips are packaged in a "10 oz. pillow bag…the sell-by date is February 22, 2019 1A6" and the UPC code is 0 41498 16306 8."
If you think you may have consumed the recalled chips and are feeling unwell, you should schedule a visit with your physician. If you have a bag of the affected product in your home, you should either discard it or return it for a refund. If you have additional questions or concerns about the recall, contact Olde York Potato Chips at +1 (905) 669-2083 x 227.
Sources:
ALDI Voluntarily Recalls Clancy's Wavy Potato Chips from Limited Stores Due to Potential Undeclared Milk Allergen in 96 Cases from Product Mislabeling