State Rep. Ron Lowe says the bill violates the Oklahoma constitution by being overly broad.
---
An Oklahoma lawmaker is suing Gov. Kevin Stitt in an effort to stop the state's permit-less carry law from going into effect this November.
According to KOCO News, the law will let most Oklahomans aged 21 or older to carry a weapon without a permit.
Perhaps needless to say, the legislation hasn't been without its fair share of critics. State Rep. Jason Lowe, a Democrat representing the area northeast of Oklahoma City, is petitioning the courts to stop the law from taking effect. He says the bill is unconstitutional and patently dangerous.
"We're excited to bring this lawsuit," Lowe said. "We're excited to challenge this dangerous law."
KOCO reports that Lowe, along with other gun control activists, ran a signature campaign over the summer. However, they didn't garner enough support—or, at least, enough signatures—to meet a filing deadline.
"We're gonna continue to fight. We're gonna continue to push," Lowe said. "We believe this law is dangerous, and we believe the citizens in the state of Oklahoma agree with us."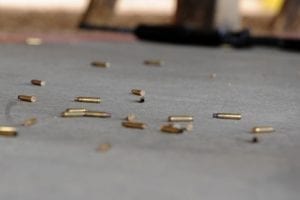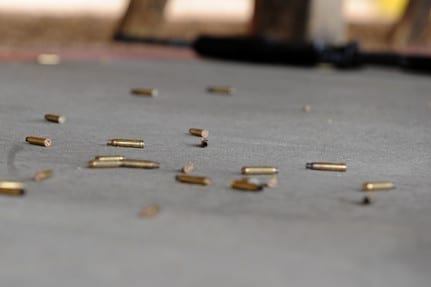 Lowe's lawsuit is supported by other Oklahoma activists.
"I have problems with, obviously, the topic and the idea of permit-less carry," said activist Andrea Stone, who's name is also on the lawsuit. "I do believe that it's dangerous. It's likely to raise the number of assaults with guns and homicides. But, beyond that, there are also serious constitutional issues with this law."
Specifically, Lowe and Stone say that the permit-less carry law violates the Oklahoma state constitution, which stipulates legislation must be about one topic. The complaint, notes KFOR.com, claims that HB 2597 is overly broad: it not only covers firearms but an assortment of other weapons, including brass knuckles.
Furthermore, HB 2597 lacks constraint: under its purview, firearm enthusiasts can carry in school parking lots, among other places.
"People would be allowed to carry a gun with no license in a public park while my kids play sports," said plaintiff Amanda Bryant. "I don't think that is a good idea."
The Oklahoma Second Amendment Association, along with other firearms advocates, say the lawsuit is baseless.
"It's just another Hail May attempt to stop constitutional carry," said Association President Don Spencer. "But it's still going to go into effect on November the first, and we're still going to be ready to celebrate getting out rights back."
KFOR notes that the Second Amendment Association helped draft HB 2597. And that, says Stone, is a problem—not only because it wasn't put together by legislators, but because it's poorly written.
"That's what happens when you allow people like the head of OK2A to write legislation that our legislators just rubber stamp," Stone said. "We don't have legislators writing these laws, we have gun extremists, so that's one reason why we are challenging today."
Stitt's office is reviewing the lawsuit.
Sources
Lawsuit filed to stop Permitless Carry law before November 1
Oklahoma lawmaker files lawsuit against Gov. Stitt to stop permitless carry law