Train fatalities are on the rise, but long-term solutions are still to be determined.
---
The number of deaths involving trains is on the rise with over a dozen Caltrain fatalities so far in 2019 and six BART fatalities.  These numbers are higher than those reported for 2017 or 2018, and the increase is currently under investigation.  However, the fatal collisions seem to be a result of both intentional and unintentional tragedies involving those in which vehicles get inadvertently stuck on the tracks, those in which pedestrians try to beat the train, and those involving suicides.  Regardless of how collisions happen, they always have a serious, lasting impact on operators and passengers.
Illinois' lines have been hit especially hard.  "What we have is an exposure problem in Illinois," said Chip Pew, a rail safety specialist with the Illinois Commerce Commission and the state coordinator of Operation Lifesaver, of the alarming rise in fatalities. "Our trespass and suicide numbers are really at our yearly highs already."
Officials continue to urge pedestrians not to try to beat a train, which is partly to blame for the uptick.  Very rarely is it possible to cross before the train does, and more often than not, this decision is a fatal one.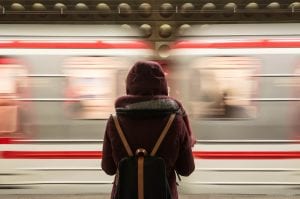 "If it's a tie, the train ordinarily wins and it's a horrible outcome," says Marc Magliari, Amtrak's Chicago spokesperson.
Metra engineer Jeff Klein, who has been driving for four decades, said, oftentimes, it's too late when the operator notices an individual trying to cross.
"We can be in the middle of nowhere and someone will pop out of the trees," he said, adding, "And it's like, where did they come from?"
Klein recalls far too many accidents over the years – all impossible to forget. "Four or five pedestrians, at least half a dozen vehicles," he said, adding, "Two semis.  We really need more buy-in from the people who are engaging in these activities.  The people know right and wrong, they just don't think it's going to happen to me."
Many believe they can easily pass, or if they get stuck on the trains in bumper to bumper traffic, the train will just stop.  The truth is, it's next to impossible for a train to stop abruptly.
"There's no steering wheel," Amtrak's Magliari said. "There's no way for a train to stop on a dime. That's hundreds and hundreds of tons of train in motion."
There have been some changes made, including a new initiative rolled out two years ago in which every vehicle and pedestrian crossing is now equipped with a blue sign displaying a toll-free number to call if one is stuck on the tracks.  The phone number connects with the railroad dispatch center, which will alert the operator.  There are also numbers to support hotlines at every crossing for those contemplating suicide.  However, major changes still need to be made to the grid and there's still no indication if and when these changes will be implemented.
In the meantime, everyone should follow the lead of school bus drivers and come to a complete stop if possible at the tracks.  If not, it's important to never try and beat the flashing lights and lowered guard rails or to stop on the tracks in wait for a green light.  Anyone who sees a person standing on the tracks should contact law enforcement.  Making a few small adjustments could greatly reduce the number of fatal collisions.
Sources:
Deaths are rising on Bay Area train tracks. Why rail agencies can't do more to stop them
Don't Try and Beat the Train: Pedestrian Deaths on the Rise in Illinois