The skills required to become a lawyer are highly sought-after in the business world, so you have a massive range of options available to you.
---
Studying law is a truly intense endeavor, requiring so much dedication and drive that some consider it a calling — and when it comes to the destination, popular culture and entertainment in the media make the prospect of becoming a lawyer extremely enticing. There's certainly some appeal in life or death scenarios, legal wranglings, huge salaries, and sophisticated living.
That said, the reality of becoming a lawyer doesn't often match up to that perception, and some lawyers struggle with frustration before eventually deciding that they don't belong in that line of work. What happens if you end up in that situation? You're fully qualified as a lawyer, but you just don't want to do it any longer. You need to find something else.
So what are the alternatives? There are plenty of viable career paths out there, but let's take a look at seven particular career paths that I think any outgoing lawyer should seriously consider.
Copywriting
Having written countless essays, arguments, rebuttals, and legal forms, you'll no doubt have a wide-ranging vocabulary and an excellent understanding of grammatical principles. Why not see what opportunities away you in copywriting? It's an incredibly varied field: you can be an in-house copywriter for a business, or publish pieces as a freelancer (that way, you can address almost any topic you can think of). You could even work for a legal copywriting firm.
Recruitment
A key part of being a lawyer is assessing character and figuring out when people are being truthful, and that can be extremely useful in the recruitment field. Whether operating as a consultant recruiter for businesses, or simply working for a dedicated recruitment firm, you can make a career from matching employers and employees (and take a healthy commission in the process, as you'd expect).
Human resources
If you don't feel like working in recruitment, maybe you can enter the world of human resources. The task is essentially to view employees as assets, and figure out how to optimize their value — usually through keeping them happy, getting their feedback, and helping them communicate more effectively. You can also work on codes of conduct, which will hugely benefit from your experience writing legal documents.
Entrepreneurship
If you're tired of working on cases involving other people's companies, seeing them pursue their passions, then maybe it's time you give it a try. You don't really need tech skills, because you can go far by using the right tools (you can find systems for doing everything from creating a logo to building a basic ecommerce store), and your legal expertise will help you immensely in defining your business and handling everything from taxation to registration.
Public relations
Lawyers need to be invested in how their clients and employers look, because even the appearance of impropriety can cause enormous damage. This understanding of how to navigate that world makes PR a natural fit, and you can make the experience even better by taking the time to review offers and find a company that you can be truly enthusiastic about.
Teaching law
That you don't want to be a lawyer doesn't mean that you don't love the law. If you're truly passionate about legal systems, why not get involved in training the next generation of lawyers? This gives you a golden opportunity to help shape minds and attitudes — you no doubt have your own personal idea of how the law should work, and you can really get students thinking (I'm not recommending being dogmatic, just explaining your perspective).
Contract management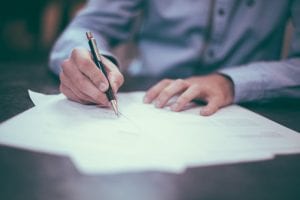 Whatever they happen to do, almost all businesses need to deal with contracts, and there's a lot riding on them. To ensure that they don't get caught out by the small print, they typically hire contract managers with the legal expertise to review their contracts before they agree to them. The money can be great, and the work will always be plentiful. On the downside, it could get boring, but it really depends on what parts of the legal world you find interesting.
The skills required to become a lawyer are highly sought-after in the business world, so you have a massive range of options available to you. I mention these seven only because I think they're particularly good fits; if you have something else in mind, then pursue it with the same dedication you used to study law and you'll surely reach your destination.