The lawsuit claims that Amazon violated New York City law by failing to inform shoppers that the company was collecting and analyzing their biometric data.
---
A New York resident has filed a lawsuit against Amazon, alleging that its Amazon Go stores violated local law by failing to notify shoppers that the company was collecting their biometric data.
According to CBS News, the lawsuit alleges that Amazon violated a New York City law requiring businesses that collect, store, or share "biometric identifier information" to clearly post signage alerting customers to the practice.
CBS News notes that Amazon Go stores, which firsts opened in 2018, use what its parent company calls "Just Walk Out Technology." Consumers scan a mobile application, after which they are tracked using a "computer vision, sensor fusion, and deep learning" technology that registers items as they are placed into a shopper's cart.
"Unlike traditional grocery or convenience stores where cashiers scan what customers are purchasing and charge them for the goods, an Amazon Go customer typically leaves the store with the goods they want and is automatically charged for such goods without wating in line, scanning, or interacting with a cashier," the lawsuit states.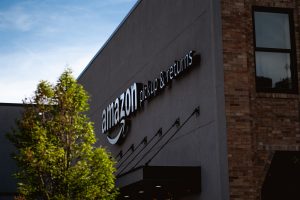 "To make this "Just Walk Out" technology possible, the Amazon Go stores constantly collect and use customers' biometric identifier information, including by scanning the palmsofsome customers to identify them and by applying computer vision, deep learning algorithms, and sensor fusion that measure the shape and sizeofeach customers body to identify customers, track where they move in the stores, and determine what they have purchased," the complaint claims.
Attorneys for the plaintiff allege that Amazon Go stores have never complied with—or attempted to comply with—New York City's biometric information law, which was enacted in January of 2021.
Amazon Go stores only began posting notifications about their biometric information collection practices in March of this year, shortly after the New York Times published a story detailing the use of facial recognition technology by commercial businesses.
The signs, adds CBS News, simply state, "Biometric information collected at this location."
Somewhat interestingly, an Amazon spokesperson told CBS News that Amazon Go stores "do not use facial recognition technology."
"Amazon One, our contactless, palm-based identity and payment service, is one of the entry options offered at select Amazon Go stores along with credit card and the Amazon app," the Amazon spokesperson told CBS News in a statement. "Only shoppers who choose to enroll in Amazon One and choose to be identified by hovering their palm over the Amazon One device have their palm-biometric data securely collected, and these individuals are provided the appropriate privacy disclosures during the enrollment process."
"The customer is always in control of when they choose to be identified using their palm," Amazon added. "Additionally, the Just Walk Out technology used to distinguish shoppers from one another is not biometric, and is used only to link a customer with their purchases during a single store visit."
Sources
Amazon Go stores in New York City didn't properly alert customers they were being biometrically tracked, lawsuit says
Amazon Sued for Allegedly Not Telling NY Store Customers About Body Scans