The prospective class action claims that companies responsible for 90% of the United States' poultry production are actively exploiting migrant labor.
---
A recently-filed lawsuit claims that some of America's biggest chicken companies are conspiring to keep wages down for the immigrants they hire en masse.
Bloomberg reports that the claim was filed last week. Based mostly on interviews with former employees, the suit alleges a conspiracy among 18 of America's top poultry producers, as well as their subsidiaries and affiliates. Two consulting firms are also named as defendants.
While the case was filed on behalf of three workers, attorneys are seeking class-action status. If approved, the claim could cover hundreds of thousands of employees spread out across the United States.
According to Bloomberg and the lawsuit, the firms have been holding "annual secret meetings" in Destin, Florida. There, H.R. representatives and compensation executives purportedly discuss how much line and maintenance workers should be paid. Using their consultants as intermediaries, the companies would exchange detailed wage information.
By making phone calls, trading data sheets and forming long-term plans, the companies ensure low-skill workers can't easily pursue better-paying opportunities within the industry.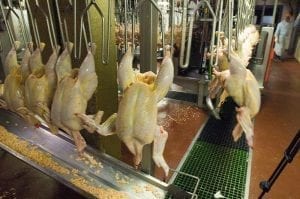 Bloomberg says the defendants include Tyson Foods Inc., Sanderson Farms Inc., Mar-Jac Poultry Inc., Wayne Farms Inc., Perdue Farms Inc., and Pilgrim's Pride Corp.
Collectively, the companies and their affiliates produce more than 90% of all chicken available in the United States today. Not surprisingly, they're pushing back against the lawsuit.
"We do not believe this suit has any merit," said Perdue spokeswoman Andrea Staub. "Our compensation philosophy is to pay fair and in some cases above average wages."
However, pay in poultry farms has long been a point of contention. And the controversy has only become more public with the Trump administration launching a crackdown on immigration compliance. Over the course of the past several months, numerous chicken plants have been raided across the south. While the White House says it's trying to warn big businesses away from migrant labor, immigration advocates harsh enforcement makers workers more vulnerable.
"Americans really need to think about where their chicken and where their beef and their pork comes from and really demand that the industry raise labor standards," Debbie Berkowitz, health and safety program director at the National Employment Law Project, told NPR.
"The industry is totally dependent on finding workers who will not raise issues and who, to a degree, live in fear of the company and they'll just keep their head down and do the work," she added. "For the last 30 years that's been immigrant labor."
With few Americans willing to take on the same jobs, it's been increasingly harder to staff poultry plants. The Trump administration's enforcement policies seem to have made retention more difficult, too. Bloomberg's coverage suggests that difficult circumstances, coupled with proximity, has culminated in conspiracy.
Most of the nation's big chicken producers, write Bloomberg, are centered in the southeast. In some cases, rival plants are located mere miles from one another. That should foster a competitive atmosphere, where workers can float between locations and find better-paying jobs as they're offered.
Instead, Big Chicken may be trying to cut its losses by playing cozy with the competition.
"As a pure antitrust matter it looks really strong, like there was a pattern of coordination in shared control over wages," Peter Carstensen, a former antitrust lawyer and University of Wisconsin law professor, told Bloomberg.
And the suit makes plenty of claims that'd support that conclusion. The Destin meetings, while regular, appear to have been off-the-books—even with executives traveling on company money, the get-togethers weren't recorded on regular schedules.
With data freely flowing between rival corporations, senior executives allegedly chastised competition "that had deviated—by making unauthorized increases to worker compensation—from agreed-upon wages that had been fixed at prior in-person meetings."
The complaint also references phone calls, documents and other instances of cooperation between companies. In some cases, plant managers planning to add new positions or expand would phone their rivals, asking how much they paid and what kinds of benefits were on offer.
Sources
America's Chicken Industry Accused of Conspiring to Keep Immigrant Wages Down