According to a new lawsuit filed against a KFC/Taco Bell franchise, a mother was discriminated against and eventually demoted because she wanted to pump breast milk for her newborn son at work.
---
A Kentucky Fried Chicken establishment is in hot water after a Kent County mother sued the franchise. Why? Well, according to the suit, the mother was "discriminated against and demoted because she wanted to pump breast milk for her newborn son." The suit was filed in U.S. District Court and targets "KFC/Taco Bell restaurants in Camden and Dover" after they "made it so difficult for Autumn Lampkins of Wyoming to pump breast milk during her shifts that her supply dried up and she was no longer able to naturally feed her newborn son."
To make matters worse, on the rare occasion she was able to pump at work, she "rarely had privacy because of windows and surveillance cameras." The suit further states:
"This willful, intentional, and unlawful gender-based harassment and discrimination violates the laws and regulations of both the United States … and the State of Delaware."
The Jacobs & Crumplar P.A. law firm of Wilmington is representing Lampkins. The suit itself was filed against Mitra QSR LLC, the owner of the fast-food franchises in question for gender discrimination and harassment. The case is expected to go to trial next month.
What happened, exactly? Well, according to the suit, Lampkins gave birth in 2014, "a few months before she was hired as an assistant manager at the KFC/Taco Bell in Camden. At the time, she was assured "that her decision to breastfeed would not be a problem." Unfortunately, once she began working, she was "only able to pump about once during each 10-hour training shift – not once every two hours as recommended." In the beginning, "she was told she would have to pump in the single-stall bathroom before she was shifted to the manager's office." However, the office had a surveillance camera, "which she was told could not be turned off," the suit claims. Also, it was not unusual for "other employees to enter the office while Lampkins was pumping."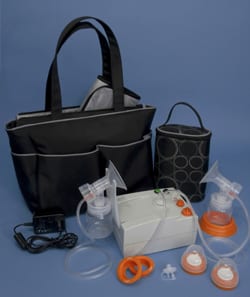 When she finished training to be an assistant manager, she was moved to a Dover KFC by district manager Emily Martin to work as a shift supervisor "instead of to a store in Smyrna as an assistant manager," the suit argues. It further states:
"This was a demotion and not at Ms. Lampkins' request. Emily Martin explicitly told Ms. Lampkins that her demotion to shift supervisor was because she was pumping breastmilk while at work."
Unfortunately, things didn't get better for Lampkins at the Dover establishment. In fact, before long, her fellow employees began complaining that she was taking "breaks to pump while they still had to work." Some even "threatened to walk out, causing insubordination that was not addressed by her supervisors." Not long after moving to the Dover franchise, she also had "limited opportunities to pump…causing her embarrassment, pain, and a decrease in breastmilk supply for her son," according to the suit. As a result of her decreased supply, she had to begin "giving her son formula sooner than she" would have liked.
Months later, she ended up quitting when she learned she was about to be fired after accidentally taking a customer's jacket home. Shortly after, she filed her lawsuit in 2016. The case is expected to go to trial soon.
Sources:
Delaware mom sues KFC franchisee for discrimination, interfering with breastfeeding