The lawsuit, filed on behalf of the late 24-year-old Gabriel Infante's mother, claims that a site foreman accused the man of being on drugs–when he was actually exhibiting obvious signs of heat stress.
---
A recently filed lawsuit claims that a Texas construction worker died from heatstroke while working underneath the sun and in high temperatures.
According to NBC News, 24-year-old Gabriel Infante was installing fiber optic cables in San Antonio for B Comm Constructors, LLC, in June of 2022.
While installing cables, Infante began exhibiting symptoms of heat exhaustion. He was eventually transported to the hospital, where he died from heatstroke several hours later.
Now, Infante's mother—Velma Infante—is suing B Comm Constructors, claiming that the company failed to protect her son from "the known hazards associated with extreme heat conditions."
The lawsuit was filed several days after Texas Gov. Greg Abbott signed a bill eliminating mandatory water breaks for construction workers in cities that enacted ordinances requiring mandatory water breaks.
'I need this law changed," Infante told NBC News. "How can you not let somebody break to cool down and hydrate to get back on the job? This will affect everybody—the worker, their families, even the employer."
"Everybody loses here," Infante said, telling NBC News that Gabriel Infante was the youngest of her five children.
"It overwhelms me sometimes and I feel lost," she said of her son's death. "I'm missing a part of me, my little circle isn't complete anymore."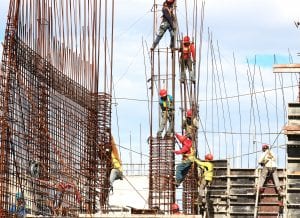 Infante further said that her son was generous, regularly helping others without asking or expecting anything in return. He loved music and played several different types of saxophones.
Gabriel Infante, adds NBC News, was working near Fork Creek with his colleague and childhood friend—Joshua Espinoza—when he began exhibiting symptoms including "confusion, dizziness, altered mental status, and loss of consciousness." He fell twice on the ground, hitting his head on concrete.
A foreman on-site initially accused Infante of being on drugs, telling Espinoza to call the police.
Espinoza, however, called emergency medical services, who said that Infante was most likely suffering from extreme heat exhaustion.
Nevertheless, when emergency services did arrive, the foreman repeatedly demanded that first responders perform a drug test on Infante.
While in transit to an area hospital, Infante's temperature was recorded at 109.8 degrees Fahrenheit—10 degrees above the normal human body temperature, and significantly higher than most fever-induced body temperatures.
"To this day, I've never gotten a call from the owner, from anybody to tell me, 'I'm sorry this happened,' or, 'We offer our condolences,'" Velma Infante said. "Nothing."
The lawsuit effectively accuses the construction company, and the state, of treating workers like "expandable commodities," forcing them to work in extreme temperatures that pose an obvious threat to human health and well-being.
"Workers are not and should not be expendable commodities to be used and abused in this extreme Texas heat with no reasonable protections from the very real dangers of severe injury or death," said attorney Bob Hilliard, who is representing Infante's mother. "No project and no deadline should take precedence over assuring that every worker goes home safely to his family at the end of a day's work."
Sources
Construction worker accused of being on drugs died of heatstroke while working in hot Texas sun, lawsuit says
Texas worker accused of being on drugs was actually dying of heatstroke