Darius Sarro tried to kill himself multiple times after enduring repeated rapes and constant bullying. Corrections officials did nothing to stop him from trying again.
---
A lawsuit claims that a Delaware inmate's suicide could've been prevented if prison officials had taken his complaints of bullying and sexual assault seriously.
According to WHYY, the suit was filed by Kelly Sarro. It targets the Delaware Department of Corrections and its contracted healthcare provider, Connections Community Support Programs. Sarro blames both for the death of her 23-year old son, Darius.
In her complaint, Sarro alleges that Darius was raped, harassed and bullied by other inmates. The abuse was ongoing and constant, covering a duration of at least two years.
Darius Sarro, note WHYY, was housed at the James T. Vaughn Correctional Center near Smyrna before being moved to Morris Community Corrections in Dover.
Sarro killed himself at the Dover facility.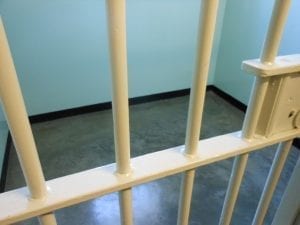 "It's a tragedy that shouldn't have happened, and it's a tragedy that will happen again," said Sarro's attorney, Stephen Hampton.
"The cavalier attitude toward the fact this fellow is in great distress, and the cavalier attitude toward the fact he's being abused and bullied and sexually molested, and they're not really doing anything about—not even investigated [sic]," said Hampton.
WHYY reports that Sarro—who was "slight in height and stature"—was housed with "much larger inmates, some serving time for murder."
The lawsuit alleges that Sarro's physical characteristics and status as a sex offender made him especially vulnerable to victimization. Furthermore, Hampton implied that Sarro's offense wasn't exactly outrageous—when he was 19, he had a relationship with a girl who claimed to be 16.
She turned out to be 13, and Sarro was prosecuted.
Nevertheless, Sarro's status as a sex offender lent prison officials to turn a blind eye to his complaints. Sarro wasn't placed in protective custody or segregated from the general population even after a brutal sexual assault sent him to the hospital.
"They all knew their failure to [isolate him] would subject Darius to all types of abuse including rape, and could lead to him killing himself to escape the torment he was suffering while in custody," the lawsuit states.
Sarro couldn't even see a mental health specialist, as his requests for treatment were routinely denied or delayed. He attempted suicide twice, and indicated to nurses that he'd likely try again.
"All the DOC defendants know there have been many suicides in DOC facilities prior tot hat of Darius and many more suicide attempts that haven't been reported," the complaint says. "Yet none have done anything to improve the mental health care for inmates or have been an advocate for DOC to take suicide seriously and insist DOC staff take steps to address suicides."
Hampton says that even when the Department of Corrections and Connections receive reports of abuse and psychological distress, they rarely act.
"In the years they've been covering any of these cases do they remember any criminal prosecutions of sexual abuse of an inmate by another inmate?" Hampton asked. "There aren't any. They don't investigate these things, they don't prosecute."
Sources
Lawsuit filed against Dept. of Correction in inmate suicide
Lawsuit: Inmates cries for help were ignored before suicide death