When most people hear the names Tim McGraw and Faith Hill, they think of country music, not copyright infringement. However, a recent lawsuit has the country music power couple caught in the middle of "alleged copyright infringement."The lawsuit itself was filed by "songwriters Sean Carey and Beau Golden" and also names "Ed Sheeran, Amy Wadge, Johnny McDaid, Steve Mac, Sony/ATV and WB Music" in addition to the couple.
Why was the lawsuit filed, though? What kind of copyright infringement was committed? Well, according to the lawsuit, "McGraw and Hill scored a hit with their current single 'The Rest of Our Life' by 'blatantly copying' Carey and Golden's 2014 song 'When I Found You,' featuring singer Jasmine Rae. The lawsuit stated:
"['The Rest of Our Life' is] in many instances verbatim, note-for-note copying of original elements of the Song, and is obvious to the ordinary observer."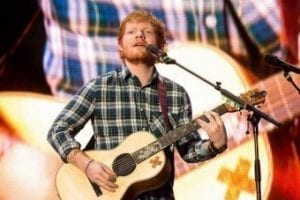 In addition to going after McGraw and Hill, Carey and Golden allege that "Sony employees had full knowledge of the infringement, blaming the record company for facilitating the incident." The lawsuit goes on to argue that "it very well may have been an agent of Sony Music Entertainment who provided the other defendants herein with access to the Song."
Golden and Carey first became aware of the alleged copyright infringement shortly after 'The Rest of Our Life' was released. After noticing tweets from a fan about the song, the two, along with Rae, looked into the lyrics and noticed similarities between their own song. Immediately they filed the lawsuit.
Though Rae isn't listed as a plaintiff in the case, she attempted to involve her boyfriend, Tim Holland, who is a "marketing manager for Sony." In fact, the lawsuit alleges:
"Mr. Holland admitted to knowing about the Infringing Song months in advance of its release because he was tasked with promoting and marketing the Infringing Song and Infringing Sound Recording before its release."
However, once the lawsuit was officially filed, Holland remained "silent on the matter to avoid any confrontation with his company" when "asked about the similarities between the two songs." However, he later "admitted to knowing that the songs were somewhat similar," according to the lawsuit.
At the moment, the lawsuit seeks "at least $5 million in damages." So what do you think? Even though all McGraw and Hill did was perform the song, is it fair to include them in the lawsuit. It will be interesting to see how this all plays out.
Sources:
Tim McGraw and Faith Hill sued for copyright infringement
Ed Sheeran, Tim McGraw sued for copyright infringement by Australian musicians
Join the Discussion