There's nothing like driving through the state of Florida and stopping along the way to try some of its fresh, all-natural orange juice, right? Well, until you find out that cup of OJ in your hands isn't exactly all natural. That's what one Brooklyn woman is alleging in a recent class-action lawsuit filed in the U.S. District Court for the Eastern District of New York. In the suit, the woman, Alexandra Axon, challenges "the Lake Wales juice processor's claim that its premium product, Florida's Natural Growers orange juice, is indeed 'natural' as declared in its name and images on the OJ carton." Why does she think the OJ isn't all natural? Well, she claims the "acts of processing the juice and trace levels of a common herbicide in it mean the product cannot claim to be natural."
The suit was filed earlier this month on July 20 by the Richman Law Group in Brooklyn. However, Bob Behr, Florida's Natural CEO, pushed back against the allegations and said:
"Florida's Natural is a natural product. Our juice is made from just one ingredient, Florida oranges, with no additives or preservatives. Furthermore, we follow all standards of natural products set forth by the U.S. Food and Drug Administration (FDA) and are proud that our orange juice complies with these standards."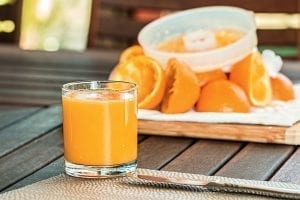 Behr's statement has so far done little to deter Axon from proceeding with the suit, especially since the lawsuit claims that "Florida's Natural OJ contains glyphosate, a widely used herbicide in Florida citrus groves," according to many University of Florida horticultural scientists. The suit notes that testing conducted by an independent lab discovered "5.11 nanograms per milliliter of glyphosate in Florida's Natural OJ."
The suit also alleges that manufacturing methods of Florida OJ, including "blending, long-term storage, and deaeration…render the product as not natural.' It also states, "No reasonable consumer would view orange juice processed in this way as 'natural."
It's important to note that the U.S. Environmental Protection Agency (EPA) has a set of 'residue tolerance' standards that are usually enforced by the FDA. According to these residue tolerance scores for fruit and other foods, which can be found on the EPA's website, a whole citrus fruit is allowed to have "no more than 0.5 parts per million of glyphosate…a level of 5.11 nanograms per milliliter equals 0.005 parts per million."
Ramdas Kanissery, assistant professor of horticulture science at the Southwest Florida Research and Education Center in Immokalee and "leading Florida researcher in weed science" has done his own research on glyphosate. According to him, glyphosate is only effective "when applied after weeds emerge." Because of this, Florida orange growers are often "advised to keep the chemical spray away from trees because the chemical will kill fruit if it makes contact." He also pointed out that Florida citrus growers are already limited by the EPA as to how much glyphosate they can apply to their crops each year. He said:
"For instance, if they are using the glyphosate product Roundup PowerMAX, the product label suggests that the combined total application on a tree crop production site must not exceed seven quarts of product per acre per year."
He also noted that "there is no scientific data on whether current usage levels can result in glyphosate making its way into orange juice."
Gene Albrigo, the emeritus professor of horticulture at the Citrus Research and Education Center in Lake Alfred also agreed that minor levels of farm chemicals could make its way into orange juice. However, he said that the levels would not be "enough to affect human health." He added, "It's all safe, and people live to be much older than they used to thanks to better nutrition and medicine so (herbicides) are not wiping out the world."
At the moment, the suit aims to have a judge declare the "lawsuit a class-action composed of all U.S. purchasers of Florida's Natural products" and is seeking "unspecified compensatory damages, including treble and punitive damages, and an injunction against the company from further use of and advertising as a natural product," according to the suit.
Sources:
New Yorker's lawsuit says Florida's Natural OJ 'not natural'
Florida's Natural Orange juice falsely advertised as natural, consumer alleges
Join the Discussion