The lawsuit, filed on behalf of a pseudonymous Kentucky inmate, claims that a former prison chaplain coerced prisoners into performing sexual acts.
---
A recently filed lawsuit alleges that a former chaplain at a Kentucky men's prison had a history of sexually abusing inmates—a history that was long neglected by corrections officials, who only took action against the chaplain after prosecutors filed criminal charges in 2022.
According to The Lexington Herald-Leader, the pseudonymous plaintiff—identified only as "John Doe" in court documents—accuses former Eastern Kentucky Correctional Complex head chaplain Todd Boyce of recurring abuse.
In his complaint, Doe says that Boyce repeatedly abused, harassed, and sexually assaulted him between March and July of 2022.
Doe, notes the Herald-Leader, is still in an inmate, although he has since been transferred to another facility.
"[Doe] brings this case to secure fair compensation and also to deter sexual abuse in Kentucky prisons in the future," the lawsuit states.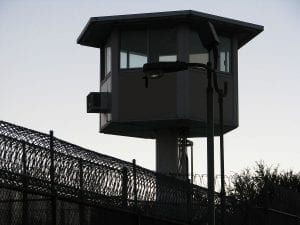 Doe, attorneys said, eventually reported Boyce to prison officials—a move that led to Boyce being fired, and which culminated in Kentucky State Police opening an investigation into Boyce's alleged misconduct.
Boyce was later indicted in Morgan County on the following charges:
Third-degree sodomy, a felony punishable by up to 5 years in prison; and
Second-degree sexual abuse, a misdemeanor punishable by up to 1 year in jail.
Boyce has pleaded not guilty to the charges and denies the allegations listed in Doe's federal lawsuit.
The lawsuit, writes the Herald-Leader, names Boyce and several corrections officials as defendants.
Attorneys for Doe say that "at least two other inmates" were transferred out of the prison after Boyce purportedly abused them.
However, even though prison officials knew, or should have known, that Boyce was preying on inmates, the chaplain's supervisors did not discipline him or investigate circulating rumors about Boyce's alleged misconduct.
According to Doe, Boyce arranged for one-on-one meetings in the prison chapel, to be held on Wednesdays, Saturdays, and Sundays.
During these meetings, Boyce demanded that Doe perform masturbate in front of him, later instructing the inmate to "not wear underwear" and to "cut a hole in the front of his pants."
Boyce also allegedly performed oral sex on the inmate and demanded additional sexual favors.
When the inmate tried to refuse Boyce's requests, the chaplain supposedly told Doe that he would be mistreated by other prisoners if he did not comply.
Boyce, notes the Herald-Leader, appears to have "cultivated influence" among other inmates by violating corrections rules, including by smuggling contraband items into the prison.
By failing to investigate Boyce, attorneys for Doe wrote in their complaint, prison officials were "deliberately indifferent to a substantial risk of serious harm" to Doe and other detainees.
Doe is seeking unspecified damages for injuries including, but not limited to, physical injuries, physical pain and suffering, humiliation, mental anguish, and severe emotional distress.
Sources
Former Kentucky prison chaplain sexually abused inmate in chapel, lawsuit alleges
Kentucky prison officials ignored alleged sex abuse of inmates by now-indicted chaplain, lawsuit claims