Attorneys for the family of 57-year-old Anthony Talotta say that the Alleghany County Jail somehow failed to realize that one of its physicians, Dr. Wilson Bernales, had had his medical license suspended or revoked in eight states.
---
A new federal lawsuit alleges that a 57-year-old Pennsylvania man with severe mental health problems was left to die inside a Pittsburgh-area jail.
According to The Associated Press, the complaint, filed earlier this week, alleges that doctors and other medical staff at the Alleghany County Jail failed to provide Anthony Talotta with adequate care.
Attorneys for the Talotta family also claim that the jail's policies, which prohibit inmates with mental illnesses from being housed in the facility's medical unit, violate the Americans with Disabilities Act by making it significantly more difficult for them to obtain effective treatment.
Furthermore, the lawsuit states that at least 17 people apparently died at the jail between March 2020 and September 2022.
Most of these inmates, lawyers say, had mental health problems or chronic medical needs.
"This lawsuit is intended not only to find full and fair justice for Anthony, but it is also intended to find justice for the individuals who came before him and took their last breaths at the Alleghany County Jail as well and to protect those who enter that jail after them with the same or similar chronic care and mental health needs," said Alec Wright, an attorney representing the Talotta family alongside counsel from the Abolitionist Law Center.
The lawsuit names a series of defendants, including, but not limited to, the following:
Alleghany County;
Alleghany County Medical Director Donald W. Stechschulte;
The Alleghany Health Network, which provides medical services at the jail; and
Wilson Bernales, who either dismissed or counteracted medical practices in his treatment of Talotta.
Somewhat disturbingly, it appears that, at the time of the incident. Dr. Bernales had had his medical license either suspended or revoked in eight different states. Alleghany County, the family says, was therefore negligent in hiring Bernales, whose numerous suspensions should have indicated that he was unfit for the position.
The complaint states that Talotta had repeatedly complained of a foot wound, which may have been sustained in a fight with a staff member at the group home he had been living in before his detention.
Jail and medical staff were reportedly aware of Talotta's injury, which was complex and included fractures, torn ligaments, and blistering.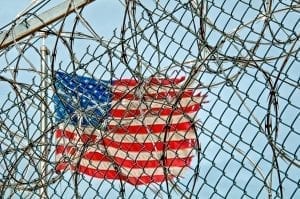 However, because Talotta was diagnosed with autism and other mental health disabilities, he was unable to adequately communicate his need for medical care.
While Talotta was taken to a hospital at least two times, his injuries worsened, and he was not given access to prescribed medical devices—including a walking boot and crutches—after being returned to the Alleghany County Jail.
"Even if Mr. Talotta was able to independently address his obvious wound care needs, Bernales removed from him every available resource to do so," the lawsuit alleges.
Talotta was later found clutching his chest inside of his cell, unable to speak and frothing at the mouth.
Bernales, in response, gave Talotta a Benadryl pill and sent him back to his cell.
"Instead of treating the medical emergency as sepsis, Bernales gave Mr. Talotta Benadryl for allergies and ordered him back," the complaint says, adding that another inmate was ordered to help "carry" Talotta back to the mental health unit.
Less than three hours later, Talotta was again found unresponsive. He was taken to a hospital, where he died the following day.
The Pittsburgh Post-Gazette notes that easily-accessible records relating to Bernales' many license revocations show that other states had obvious concerns about the doctor's integrity.
"The assessment team is of the opinion that Dr. Bernales lacks the capacity for honesty, trustworthiness, and moral integrity necessary for a physician," the Wyoming Board of Medicine wrote in 2017. "At best, Dr. Bernales has an inadequately developed ability to define and delineate moral issues. At worst, his behaviors suggest a 'catch me if you can' mentality of deception and fraud."
Sources
Lawsuit: Man who died in Allegheny County Jail was treated by 'disgraced physician' with history of issues
Lawsuit over death of autistic man in a Pittsburgh jail alleges negligence, systemic discrimination