The proposed class action lawsuit alleges that Southwest Airlines violated its own contract of carriages by not immediately offering refunds to passengers who had their flights cancelled during the December 2022 winter storm.
---
A passenger has filed a lawsuit against Southwest Airlines, alleging that the carrier broke the law by failing to provide customers with immediate refunds for cancelled flights.
According to CBS News, Southwest Airlines' contract of carriage stipulates that the company will provide refunds for cancelled flights, along with compensation for additional costs, such as hotel stays, meals, and rental cars.
The lawsuit, adds CBS News, was filed by Louisiana resident Eric Capdeville.
"Southwest's failure to provide prompt refunds for canceled flights violates not only its own contract of carriage, but also federal law," Capdeville wrote in the proposed class action lawsuit, which was filed earlier this week in U.S. District Court for the Eastern District of Louisiana.
The lawsuit claims that Southwest owes its customers about $5,000,000 in outstanding refunds.
Capdeville, writes CBS News, purchased tickets to travel between New Orleans and Portland. His initial departure flight was scheduled to leave on December 27, 2022.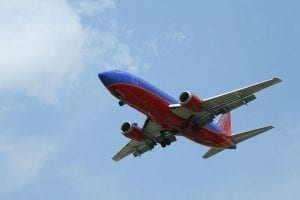 However, Capdeville's lawsuit was cancelled due to inclement weather, and he was forced to forfeit his return ticket from Portland.
Southwest, the class action lawsuit says, did "not offer any comparable accommodations on another flight."
Capdeville was not offered a refund, either, but was offered airline credits to use on future Southwest flights.
Capdeville and his attorneys suggest that Southwest's refusal to offer an immediate refund violates the carrier's own contract of carriage, which states that, if and when the carrier cancels or changes the schedule of a flight, it will, at the request of the passenger, either re-accommodate the passenger on another flight or offer a full refund of the original fare.
Southwest Airlines states that it will ordinarily process refund requests within 7 business days if purchased by credit card, and 20 business days if purchased with cash.
"Neither provision provides for any 'credit' for use on future Southwest flights," the lawsuit alleges.
Since Capdeville was not provided with any reasonable re-accommodation on another flight to Portland, he now believes that he should be entitled to a refund.
Southwest Airlines recently told CBS that it was in the process of disbursing refunds to passengers affected by December's massive winter storm.
"There are several high priority efforts underway to do right by our customers, including processing refunds from canceled flights, and reimbursing customers for expenses incurred as a result of the irregular operations," Southwest said in a statement. "In fact, on December 28, we launched a website to assist customers with requesting refunds and reimbursements, and those requests are being processed and issued www.southwest.com/traveldisruption."
NBC News notes that Capdeville's lawsuit is not the only civil claim alleging that Southwest's conduct hurt its customers.
A similar, proposed class action was also filed in California, wherein San Diego-based consumers said that Southwest should have been aware of the impending weather conditions and made prior arrangements to accommodate potential requests for refunds.
Sources
San Diego Residents File Proposed Class-Action Lawsuit Against Southwest Airlines
Southwest Airlines sued for not immediately refunding stranded customers