Jeffrey Buckmeyer spent months enduring a grueling FBI investigation. Months after he was cleared without charge, he died from a heart attack.
---
A $1 million lawsuit against Target claims an Oregon employee made up a story about seeing pictures of naked, bound and tortured children on a man's iPhone.
According to The Oregonian, that employee filed a formal report with the Tigard Police Department, who then contacted the Federal Bureau of Investigation. Both agencies spent months building a case against Jeffrey Buckmeyer, who had no idea he was being watched.
Last summer, Tigard Police and the FBI conducted a joint raid on the 43-year old man's apartment. Agents searched his apartment, seized his cell phone and confiscated his computers. Buckmeyer, all the while, was made to sit in the back seat of a police car.  There, officers interrogated him while his neighbors looked on.
The Oregonian notes that the accusations levied against Buckmeyer could've sent him to prison.
But the case quickly went cold. After spending four months searching Buckmeyer's electronics, the FBI came up to empty-handed. There was no evidence—not on his computer, not on his cell phone or in any documents or magazines—that Buckmeyer had ever looked at child pornography or personally abused children in any way.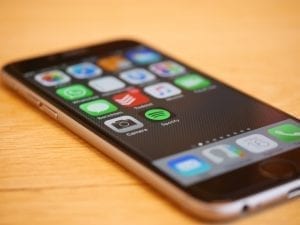 Unfortunately, Buckmeyer didn't get a happy ending. While he did get to clear his name, he died from a heart attack shortly thereafter.
His family, writes The Oregonian, is suing Target on behalf of his estate. Michael Fuller, a Portland attorney who's representing the family, says his clients believe the 'overwhelming stress' of being accused of child molestation contributed to Buckmeyer's untimely death. However, the suit doesn't specifically make that allegation.
One way or another, Fuller suggests that Buckmeyer was unfairly—and perhaps randomly—targeted.
"As far as I can tell, he was a straight shooter, living his life in Tigard," Fuller said.
Buckmeyer, notes the Oregonian, had no criminal history. He lived alone, had a teenager daughter and worked as an insurance salesman.
But Buckmeyer's life took a drastic turn on July 24, 2018, when he brought an iPhone 6s to the Hall Boulevard Target in Tigard. He wanted an employee's help freeing up memory.
The employee claims they tried to help Buckmeyer by demonstrating how a single folder, containing more than 1,000 pictures, could consume unnecessary storage space. In all, the worker claimed to have viewed 15 to 20 of the photographs.
According to the FBI's court filing, the employee was specific: he said he glimpsed photographs of naked girls, all aged around 10 and of different ethnicities. Some appeared to be tied up or otherwise subject to "sadomasochistic abuse."
Along with child pornography, the Target employee also said there were pictures of Buckmeyer nude and 'aroused.'
Less than 120 days after the investigation began, it was suddenly over. The FBI announced it was dropping the case and that no charges would be filed against Buckmeyer.
Fuller says it's extraordinary for a national-level agency like the FBI to take an investigation so far without finding anything—and all based off the claims of a single Target employee.
Sources
Family files $1M lawsuit against Target, claims employee ruined man's life with false accusations of child porn on iPhone
Target employee tanked innocent man's reputation with false story of seeing naked girls on his iPhone, $1M lawsuit says