Muslim prisoners say they weren't allowed to pray on Fridays or properly observe Ramadan.
---
The Alaska Department of Corrections will change its policies, making it easier for Muslim inmates to practice their faith behind bars.
The case was brought on behalf of two Muslim inmates by the Council on American-Islamic Relations (CAIR). According to CAIR, the meals provided to both men during the holy month of Ramadan didn't meet federal health standards. They were low on calories, often cold and sometimes contained pork.
Furthermore, the inmates say they weren't allowed the same privileges as members of other faiths. Muslim convicts were purportedly barred from performing Friday services and weren't allowed to hold study groups.
A federal judge signed off an agreement last Friday, which will force the Alaska Department of Corrections to institute more equitable policies.
Term of the agreement, says The Associated Press, 'call for the department to provide inmates fasting during Ramadan at least 3,000 average daily calories.' They'll also receive at least two hot meals, neither of which can contain pork. Guards will be prohibited from striking inmates' names off the Ramadan meal list for disciplinary reasons, too.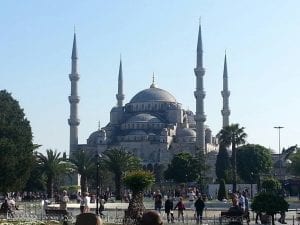 Ramadan, adds the A.P., 'is marked by daily fasting from dawn to sunset.' Muslims are typically forbidden from eating food or drinking water during daylight hours, although Islam permits exceptions for people undergoing hardship.
"So when they are in prison, that means the Department of Corrections needs to provide them with meals after the sun goes down and before dawn," said CAIR trial attorney Carolyn Homer.
Along with recognizing the rights of Muslim inmates, the Department of Corrections has promised to pay a total of $102,500 in damages, costs and attorneys' fees. It will also allow CAIR to 'provide free videoconference religious sensitivity training for department superintendents, chaplains and grievance officers.'
While the settlement codifies the policy changes, Homer says Alaska prisons began changing their rules in time for last Ramadan.
"They are now ensuring that all Muslim inmates in all facilities in Alaska receive two hot meals per day during the nighttime hours," Homer said.
Alaska Public media says that DoC officials declined to give a recorded interview but did provide a statement.
"The State of Alaska's Department of Corrections accommodates more than thirty different religious groups inside of our facilities, including those who identify as Muslim," said Corrections Criminal Justice Planner Jeremy Hough in a written statement. "As a department, we are committed to providing religious as well as cultural opportunities for offenders within available resources, while maintaining facility security, safety, health and orderly operations."
Gadeir Abbas, an attorney for the inmates, said Alaska's commitment to change should serve as a model for jails and prisons across the country.
"It's a positive development for the state of Alaska for the Muslims that are incarcerated," Abbas said. "There's few places where a person's faith is more important than when their freedom is taken away."
Sources
Alaska reaches settlement in case brought by Muslim inmates
Civil liberties group, State of Alaska settle suit over meals for Muslim inmates