ERISA case outcomes are not employer-friendly, according to Lex Machina data. To protect companies when litigation over a company-sponsored benefits plan arises, attorneys need to be able to find and analyze similar cases that have appeared before their judge in order to develop the best legal strategies. The ERISA module provides data-driven insights and trends on ERISA litigation, plus the track records of opposing counsel and the behaviors, decisions and expertise of judges hearing the case.
Lex Machina's Legal Analytics is already being used by some of America's top corporations (e.g., Microsoft, Cisco, Facebook, Nike, eBay, GM, Motorola, HP, Celgene, Samsung, Travelers, Allstate, Yahoo!, Capital One, NBC Universal, etc.) across 12 practice areas. The company previously issued a module for Employment litigation in July 2017.
The company recently announced the latest expansion of its award-winning Legal Analytics® platform with the addition of ERISA litigation cases. The ERISA module encompasses nearly 83,000 cases filed in federal district court pending since 2009. They include disputes over the administration of employee benefits plans protected by The Employee Retirement Income Security Act (ERISA) of 1974.
The module primarily covers cases initiated by plan participants or beneficiaries involving alleged disputes over the administration or funding of ERISA-protected employee benefits plans, including life, health, retirement, pension, profit-sharing, healthcare savings accounts, and more. Specific cases include employers seeking reimbursement for overpayment, employees seeking ERISA-authorized penalties against employers who may have withdrawn from ERISA plans, and United States Department of Labor intervention lawsuits. The ERISA litigation module's data-driven insights help attorneys prepare case strategies and navigate the complexities of ERISA laws, which have undergone frequent Congressional amendments and are interpreted differently by individual judges.
"ERISA litigation is one of the most complex and intricate areas of the law, with the majority of cases decided pre-trial or on bench decisions," said Carla Rydholm, Director of Product at Lex Machina. "The new ERISA litigation module gives attorneys insight on how a judge may react or how much experience they have by illuminating trends or patterns based on past decisions."
As part of the product development process, Lex Machina interviewed experienced ERISA and employment attorneys to better understand the intricacies of ERISA litigation and incorporated their feedback directly into the platform. As a result, Lex Machina has added ERISA-specific case tags, findings, remedies, and damage classifications, which allow litigators to find and analyze the most relevant ERISA cases. As with all legal analytics practice areas, the ERISA module spotlights the track records of opposing counsel and parties, the experience and behaviors of judges, case outcomes by federal district, and other critical factors, such as case timing, findings, and damages, which play a critical role in determining case strategy.
With the launch of its latest module, Lex Machina has already uncovered interesting insights into ERISA litigation, including: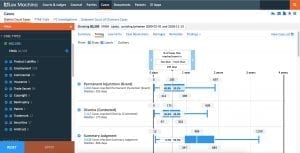 The vast majority of ERISA cases are either settled pre-trial or dismissed via summary judgment or contested dismissals. Fewer than 2% of cases proceed to trial.
ERISA cases resolve with a default judgment about 11% of the time. This is a large percentage of default judgments compared to other practice areas. A sizeable amount of these defaults are probably delinquent contribution claims, because employers who are unable to pay their contributions likely are unable to pay to defend a lawsuit.
More than $4 billion in damages have been awarded in ERISA cases since 2009.
A delinquent contribution case usually involves a union or employee suing an employer for failure to pay contractually obligated contributions into a pension. In looking at cases based on a delinquent contribution claim, Claim Defendants are receiving judgment on the pleadings nearly six times more often than Claimants. However, if the case gets to summary judgment, Claimant Defendants win about 58% the time.
On the other hand, cases involving a claim denial are rarely resolved with a default judgment and have a significant number of summary judgment case resolutions. This may affect the length of a case, as the median time to summary judgment in a claim denial case is 471 days.
The United States Department of Labor may file an enforcement action on behalf of employees. These cases result in a consent judgment 60% of the time.
Northern District of Illinois is the top venue for ERISA cases with 10% of all ERISA cases. This can be attributed to external factors such as region's heavy union presence and having the large metropolitan area of Chicago as part of the federal district.
About Lex Machina
Lex Machina's award-winning Legal Analytics® platform is a new category of legal technology that fundamentally changes how companies and law firms compete in the business and practice of law. Delivered as Software-as a-Service, Lex Machina provides strategic insights on judges, lawyers, parties, and more, mined from millions of pages of legal information. This allows law firms and companies to predict the behaviors and outcomes that different legal strategies will produce, enabling them to win cases and close business.
Legal Analytics was named "Best Legal Analytics" by readers of The Recorder in 2014, 2015 and 2016, and received the "Best New Product of the Year" award in 2015 from the American Association of Law Libraries. The company was named a "Legal A.I. Leader" by The National Law Journal in 2018.
Based in Silicon Valley, Lex Machina is part of LexisNexis, a leading information provider and a pioneer in delivering trusted legal content and insights through innovative research and productivity solutions, supporting the needs of legal professionals at every step of their workflow. By harnessing the power of Big Data, LexisNexis provides legal professionals with essential information and insights derived from an unmatched collection of legal and news content—fueling productivity, confidence, and better outcomes. For more information, please visit www.lexmachina.com.