Haftar and his fighters–explicitly endorsed by the White House last April–are responsible for a bombing campaign in that's killed hundreds around the Libyan city of Tripoli.
---
A group of Libyan families are suing rebel leader Khalifa Haftar for allegedly carrying out war crimes against civilians in North Africa and the Maghreb.
NBC News reports that the lawsuit was filed in federal court by four families. They all accuse Haftar, a U.S. citizen, of spearheading an 'indiscriminate' bombing campaign that's killed scores of innocent men, women and children.
The complaint—lodged in district court in Virginia last Wednesday—is a personal recounting of tragedy and loss. In it, the families cite deaths of loved ones and relatives, many of whom died in mortar strikes and bombing raids near the Libyan coastal city of Tripoli.
Haftar, notes NBC, is locked in an ongoing conflict with Libya's United Nations-recognized government. His tactics and means, claims the lawsuit, are "carried out […] in a malicious, outrageous and willful manner without any regard for human life."
"The terrorist activities committed by Defendant Haftar constitute a violation of the laws of nations prohibiting torture, mass murder, indiscriminate destruction of civilian property and genocide," the suit states.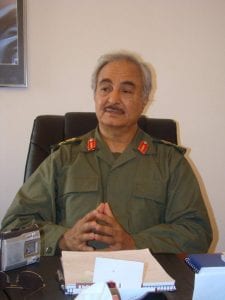 Nonetheless, Haftar has received significant backing from overseas powers. His militia has garnered support from states as distant as Russia, while maintain some support across the wider Arab world. Politicians and generals in Egypt and the U.A.E. have also funneled resources to Haftar, who says he's fighting against Islamist militants and Muslim extremists.
Perhaps because of his anti-radical end-game, Haftar has been praised by U.S. President Donald Trump. The two spoke over the phone in April, says NBC, with Trump 'expressing appreciation for the warlord's role in countering terrorism in Libya.'
Haftar, adds al-Jazeera, was a long-time general for deposed Libyan dictator Muammar Gaddafi. But the pair suffered a fall-out and Haftar fled to the United States, where he remained for some 20 years. He returned to Libya in 2011, joining the Arab Spring rebellion after Gaddafi's death.
Since returning to Libya, Haftar's bombing campaign in and around Tripoli has killed at least 460 people and injured some 2,400 more.
New Jersey Rep. Tom Malinowski, a Democrat, said that Haftar's forces have shown a "flagrant disregard for human rights."
In a letter demanding an investigation into Haftar's actions and assets, Malinowski said that the former general is a "U.S. citizen, and as such subject to a wide range of domestic laws on war crimes and torture—in addition to international conventions."
"I will follow through on this and other measures to ensure that the international community does not forget Libya's conflict and that the United States government remains committed to prosecuting war crimes and grave injustices," Malinowski said.
The lawsuit seeks upwards of $125 million in damages.
Sources
Khalifa Haftar: Libya's military strongman
Libyan warlord praised by Trump is sued in U.S. for alleged rights abuses, war crimes
US-Libyans sue Khalifa Haftar over civilian deaths near Tripoli