One of the best things you can do after a serious accident is get a good personal injury lawyer. This can mean the difference between getting a low-ball settlement and the compensation you deserve.
---
If we are unfortunate enough to have had an accident, we are often able to make a claim for compensation and if the accident has been of a very serious nature, causing a permanent disability for example, a compensation payout is essential to cover your expenses if you are unable to work again.Your personal injury lawyer is a crucial part of that process as preparing and presenting your case effectively can make the difference between being awarded a settlement or being left with nothing.This article looks at some of the points which you would have to remember when looking for a personal injury lawyer.
It is always a good idea to start by using recommendations if you can get them. Use your friends, family and relatives and ask on social media. You can then begin to build a list of possibilities which when gathered, you can begin the process of reviewing your choices. You may also need to check online, look at the information provided on the websites and look for the best fit for you. Gather a few possibilities and then compare.
Once you have a selection of local possibilities, it is time to review and decide who you would choose to take your case forward. Often personal injury lawyers will offer free initial consultations and it is worth taking advantage of that. Make a list of questions that you want answered, you may want to know any of the following details:
Do you have experience in cases similar to mine?
How long is the process likely to be from start to finish and how involved do I need to be?
What would you charge for a case such as mine or how does your fee structure work?
Will I just be dealing with you or will I be dealing with other lawyers as well?
Make a list of any questions that would be pertinent to your case and do not be afraid to ask, no matter how silly or simple your questions seem. A reputable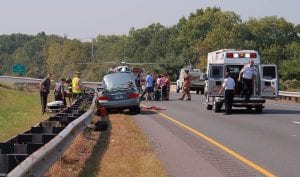 lawyer will take the time to reassure you and will be able to explain the process from start to finish and by the end of the consultation, you should feel more at ease. If you feel intimidated in any way or you felt that the lawyer was overly abrupt or aggressive, move on to your next choice. If you are not confident and comfortable at this stage, you are unlikely to be any more comfortable as the case progresses. You have to find a lawyer with whom you can have a comfortable dialogue.
Brian D Guralnick is a leading West Palm Beach Attorney, actively involved in covering its client in auto accidents and injuries.
Check out the online reviews if you can, making sure that they come from an independent source where possible.
Finally, before making your choice and signing on the dotted line, make sure that you are fully aware of all of the terms and conditions associated with the process. Take your time, read them carefully and ask about anything that you don't understand. The terms and conditions should be set out in an easy to understand format.