Earlier this week, certain flavors of Ben & Jerry's ice cream was recalled over concerns they may contain undeclared allergens.
---
With summer right around the corner, many of us will be filling our freezers with ice-cream soon. Unfortunately, a recall was recently issued for a popular brand of ice-cream, Ben & Jerry's. According to the notice, certain types of Ben & Jerry's ice cream has been recalled over concerns the "products may contain tree nuts not mentioned in their ingredient or allergy lists."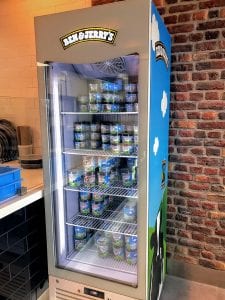 The affected flavors include Chunky Monkey and Coconut Seven Layer Bar, according to Unilever, Ben & Jerry's parent company. The concern is that the select pints of ice cream may contain an assortment of tree nuts, including almonds, Brazil nuts, and hazelnuts. For many people around the world, tree nuts are an allergen. In fact, the recall notice states:
"Persons who have an allergy or severe sensitivity to these undeclared tree nuts run the risk of a serious or life-threatening allergic reaction if they consume the recalled products."
Though the issue has been resolved, there is a concern the products may be in consumer's homes. Fortunately, there have been no reports of adverse reactions or illnesses so far. Unsure whether you have the affected products in your freezer? Just check the UPC and Best-by dates. According to the notice, the recalled Chunky Monkey ice cream has a UPC number of 076840100354 and Best-by dates of AUG2820BH2, AUG2920BH2 or AUG3020BH2. As for the Coconut Seven Layer Bar sold in 2.4-gallon tubs, the UPC is 076840104246 and has a Best-by date of SEP1520BJ4.
Sources:
Ben & Jerry's recalls some Chunky Monkey, Coconut Seven Layer Bar flavors for unlisted tree nuts
'Chunky Monkey,' 'Coconut Seven Layer Bar' Ben & Jerry's flavors recalled