Yesterday a Los Angeles judge dismissed a lawsuit filed by Stormy Daniels against President Trump. The suit was filed last year and claimed Daniels was paid hush money to stay quiet about an alleged affair with the president.
---
Another lawsuit filed against President Trump was dismissed yesterday by Judge S. James Otero, of United States District Court in Los Angeles. The suit itself was filed a year ago in California by Stormy Daniels and her lawyer, Michael Avenatti and alleged the adult film actress was "paid to keep quiet about an alleged affair with Mr. Trump before the 2016 election."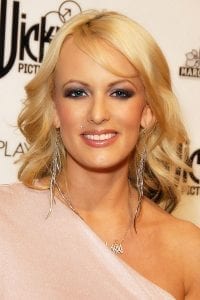 At the time the suit was filed, it sought to "release Ms. Daniels from the nondisclosure agreement she had signed." As part of the agreement, Michael D. Cohen, the president's former personal lawyer, paid Daniels $130,000 in hush money.
So why was the case tossed out? Well, when commenting on the matter, the Los Angeles judge called the "legal argument moot, given that Ms. Daniels had not been held to the terms of the agreement." In fact, both Daniels and Avenatti have been speaking "freely about the arrangement" ever since they filed the suit last March. Eventually, so much attention began accumulating around the matter that Cohen ended up "pleading guilty to related campaign-finance crimes last summer."
Prior to the lawsuit being filed, Cohen "legally pressured" Daniels to stay silent, which then led to private "arbitration proceedings against her in efforts to prevent her from speaking out."
When news broke that the suit was being dismissed, Daniels was actually getting ready to promote her new book titled "Full Disclosure." The book release is expected to take her around the county for appearances in places like Washington D.C.
When asked about the judge's decision to dismiss the case, Avenatti said, "The court found that Ms. Daniels received everything she asked for by way of the lawsuit. She won." However, it's important to note that Daniels did not, in fact, receive everything she wanted. For starters, when the suit was filed last year, "Avenatti did not just seek to invalidate the nondisclosure agreement." Additionally, "he also requested reimbursement for the costs of the litigation, as well as further relief as the court may deem just and proper." That didn't happen, though.
On the other side of the aisle, Trump's lawyer, Charles J. Harder, said the decision the dismiss the suit is a "total victory" for President Trump. He added that "with the lawyers' fees and sanctions, the ruling amounted to an award in the president's favor totaling $293,000."
This isn't the first time a lawsuit filed by Daniels has been dismissed, though. In fact, last fall, the same judge dismissed another one of her suits against President Trump that alleged "he had defamed her on Twitter." As part of the suit dismissal, Daniels was also "ordered to pay the president's legal fees."
Sources
Stormy Daniels's Hush Money Lawsuit Is Dismissed by Judge
Judge tosses Stormy Daniels' lawsuit against Trump over hush money agreement