A man was imprisoned for several years because he could not pay his bail. He was acquitted and has filed a lawsuit for wrongful imprisonment.
---
On August 5, Michael Brady of Teaneck, New Jersey filed a federal lawsuit against state and county officials and agencies after he was acquitted of the murder of a mother and her child.  His lawsuit alleges "malicious prosecution and wrongful imprisonment."  Brady was accused of the death of 40-year-old Tam Marie Pitts-Gaddy and her 5-year-old daughter Natasia in 2013.  The judge set his bail at $2 million and he could not afford to pay it.
Brady "went to check on his ex-girlfriend, Tam Marie Pitts-Gaddy, and her 5-year-old daughter, Natasia, at their Englewood home after they did not return a number of his phone calls," according to the lawsuit, which added, "The door was locked, but Brady had a feeling they were home so he broke through the window.  He soon found Pitts-Gaddy stabbed nearly a dozen times and her daughter suffocated in the basement."  A police report confirmed the victims were discovered by law enforcement officials on January 29, 2013.  Pitts-Gaddy was stabbed to death in a bedroom.  Natasia was found smothered to death in a finished basement.
Authorities at the time said Brady killed Pitts-Gaddy, his girlfriend, as Natasia watched, and then Brady killed the 5-year-old-girl.  The next day, Brady returned to the apartment with Pitts-Gaddy's relatives and acted shocked to see the two bodies.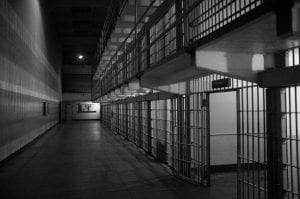 Brady was placed behind bars, unable to pay for his freedom, but before standing trial.  The years of wrongful imprisonment caused Brady "permanent emotional trauma and injury," the lawsuit alleged, including suffering "embarrassment, humiliation and severe and permanent mental anguish" as a result.
"The years in jail should never have happened," according to William Pinillis, his attorney representing him in the wrongful imprisonment case, who added, "You have a constitutional right to a speedy trial.  In a case like this, where obviously there are questions, to leave someone in jail for four years before being ready to go for trial is fairly outrageous."
The lawsuit names the Bergen County Prosecutor's Office, the Attorney General's Office, the county and the state, as well as former Bergen County Prosecutor John Molinelli.  Molinelli contended he retired as prosecutor more than a year before Brady's trial and should not be involved.  He stepped down in January 2016, and in 2017, after a month-long trial, the jury deliberated just 90 minutes before delivering a not guilty verdict.
"These delays were part of a thinly veiled strategy to wear [Brady] down and to make him feel desperate and hopeless as to extort a plea agreement from [Brady]," the lawsuit stated, adding that "law enforcement disregarded other leads in the case, including bloody footprints and fingerprints that matched another man who had a prior relationship with Pitts-Gaddy…But the Prosecutor's Office disregarded its expert's own analysis and even neglected to test DNA from a hair sample found in Pitts-Gaddy's hand at the scene."
Pinillis said, "The prosecutor has an obligation not only to follow all the leads and exercise their prosecutorial discretion in the interest of justice – in terms of the way the evidence presents itself – but also in terms of being fair to the accused and making certain they're not held in jail for an exceedingly long period of time on nothing more than allegations."
Sources:
Teaneck man acquitted of double homicide sues state, county and law enforcement officials
N.J. man spent 4 years in jail before jury said he didn't commit murder. Now he's suing.