Immigrant workers in New Jersey have filed a wage theft lawsuit hoping to reclaim years of backpay owed to them.
---
A week after New Jersey imposed stricter penalties for wage theft, a group of eight immigrants sued a car wash alleging they were not paid minimum wage and overtime.  The class action lawsuit, filed in U.S. District Court in Newark, alleged Carribean Car Wash Inc. and its owners "failed to abide by the Fair Labor Standards Act and New Jersey Wage Payment Law by allowing managers to take the tips of workers and by not following record-keeping requirements and not maintaining proper and complete time sheets or payroll records."
"The exploitation of immigrant workers in the car wash industry is widespread, happening all too often," said Steven Arenson of Arenson, Dittmar & Karban, the attorneys representing the car wash workers in this case.  He added, "Unfortunately, many workers don't know their rights and are afraid of being fired if they speak up…The law protects workers who have been paid illegally, regardless of their immigration status, and New Jersey's new law is designed to protect precisely the kind of low-wage, vulnerable workforce exploited in this case."
The plaintiffs in the suit are Rigoberto Andux Mirabal, Gabriel Cano Arango, Yoan Aquino Martinez, Lucas Alberto Pedronzo Toledo, Julio Cesar Ochoa, Nelson Batista Corbo, William Ricardo Antunez Valdez, and the estate of Carlos Alberto.  The defendants named are Caribbean Car Wash along with Oscar and Roberto Ulpiano who manage employees and operate the business.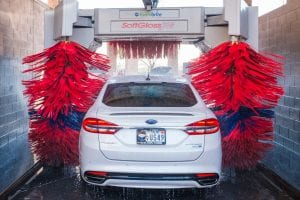 In February of this year, 800 California car wash employees who worked at twelve Vahid David Delrahim centers in Los Angeles, Orange, Ventura, and San Bernardino counties received a $4.2 million settlement after a five-year battle in court.
Delrahim is the owner of an estimated 100 car washes and gas stations.  According to federal prosecutors, his workers, mostly Latino immigrants, were "regularly ordered to arrive to work early to their shifts without being allowed to clock in until customers arrived, and when business slowed at certain points during their shift, they had to clock out but still remain on duty until more customers showed up."  This resulted in numerous hours of unpaid work.
The investigation originally began in June 2015 with 63 employees at a single location, the Brea Car Wash & Detail Center, and branched out from there.  In court documents, Delrahim's lead attorney, Los Angeles-based Rebecca Aragon, called the government's claims "frivolous, vexatious and unreasonable," arguing that Delrahim was "without sufficient knowledge…to admit or deny" the allegations.  Then, after more than 200,000 pages of filings, documents, depositions and testimony taken over the course of several years, the case was eventually slated for trial.
"You have rights.  If you work in the United States, you deserve your paycheck at the end of those hours you worked," said Angelica Salas, executive director of Coalition for Humane Immigrant Rights of Los Angeles (CHIRLA).  The U.S. Department of Labor added the large settlement was intended to send a warning of sorts to employers that hire "immigrant communities that their immigration status, whether legal or undocumented, means they have rights."
Marc Pilotin, with the U.S. Department of Labor, said, "One of the main things that we are working on here with our community partners is to make sure that the money gets back into the hands of the workers."
Sources:
Immigrant car washers file suit to recoup unpaid wages and overtime
IMMIGRANT WORKERS AT NEW JERSEY CAR WASH SUE EMPLOYER AFTER BEING PAID LESS THAN $5 AN HOUR FOR YEARS
California Car Wash Employees are Finally Receiving Overdue Checks