800 car wash employees are finally starting to receive back pay owed to them for working off the clock.
---
Nearly 800 California car wash employees are finally beginning to receive their overdue checks as part of a $4.2 million settlement that was arrived at almost seven months ago after a five-year battle in court.  The workers were all employed at twelve Vahid David Delrahim car washes in Los Angeles, Orange, Ventura, and San Bernardino counties.
Delrahim is the owner of an estimated 100 car washes and gas stations in total and is well known in his close-knit community of Persians who migrated to Southern California in the wake of the Iranian Revolution.  He has been a major donor to the Jewish National Fund, and due to the earnings, he received from one of his companies, Platinum Energy, Delrahim not too long ago bought of a $9.1 million home in Hidden Hills, becoming neighbors with celebrities Miley Cyrus and Kim Kardashian.
According to federal prosecutors, Delrahim's car washer workers, mostly Latino immigrants, were regularly ordered to arrive to work early, but were not allowed to clock in until customers arrived, and when business slowed at certain points during their shift, they had to clock out but still remain on duty until more customers showed up.  This resulted in numerous hours of unpaid work.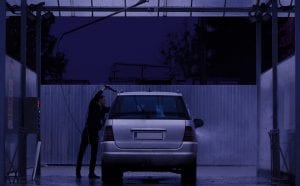 The investigation originally began in June 2015 with 63 employees at a single location, the Brea Car Wash & Detail Center, and branched out from there.  In court documents, Delrahim's lead attorney, Los Angeles-based Rebecca Aragon, called the government's claims "frivolous, vexatious and unreasonable," arguing that Delrahim was "without sufficient knowledge…to admit or deny" the allegations.  Then, after more than 200,000 pages of filings, documents, depositions and testimony taken over the course of several years, the case was eventually slated for trial.
Before it could head in that direction, the defendant chose to settle the matter $4.2 million with Delrahim himself being fined $400,000.  At the time, the owner of the car washes said he didn't want to go through an expensive civil trial, but he never admitted to any wrongdoing.
"You have rights.  If you work in the United States, you deserve your paycheck at the end of those hours you worked," said Angelica Salas, executive director of Coalition for Humane Immigrant Rights of Los Angeles (CHIRLA).
The U.S. Department of Labor added the large settlement was intended to send a clear message to employers that hire "immigrant communities that their immigration status, whether legal or undocumented, means they have rights."  Marc Pilotin, with the U.S. Department of Labor, said, "One of the main things that we are working on here with our community partners is to make sure that the money gets back into the hands of the workers."
There are hundreds of similar claims brought each year by state and federal officials against car washes, garment contractors, caregiver facilities, restaurants, and construction companies, all of which have the highest number of wage and hour violations, according to the Department of Labor.  Other companies have been cited for not issuing checks as well, and the federal agency revealed that there are dozens of cases similar to this one still pending in court.
Sources:
Southern California car wash mogul cited for cheating 700 workers and destroying evidence
SoCal car wash workers begin receiving checks in $4.2M settlement with mogul over labor rights