Career criminal, William J. Gallagher, purposedly robbed bank to go back to behind bars because he had heard Wisconsin's prison system has the best healthcare.
---
William J. Gallagher is no stranger to crime.  In fact, crime is all he's ever known.  So, in 2018, Gallagher traveled to Milwaukee, Wisconsin, hoping to get sentenced to one of its prisons by robbing a bank.  Apparently, he had heard the healthcare system in the state's prisons was far better than anywhere else.
Gallagher spent twenty years behind bars in New Jersey for attempted homicide and was released.  Six months later, he boarded an Amtrak to Chicago, connected with one heading to Milwaukee, and immediately went to a Chase bank "with the sole motivation of going to prison," according to public defender, Charles Roozen.  Gallagher pleaded guilty to attempted robbery of a financial institution in December.
"I've never heard anyone rob a bank so they can get to prison so they could get health care," James Griffin, the assistant district attorney prosecuting Gallagher, said at his plea hearing. "It's a sad comment on the situation of health care in America. … That a guy's got to rob a bank to get health care is unfortunate, to say the least."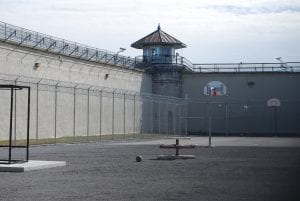 The day of the incident, Gallagher informed a bank teller at the Chase branch that his name was Bill, demanded cash in the form of $100 bills and said he had a bomb.  He thought the plan was failsafe. Just in case, though, Gallagher asked the teller to "please call the police," according to court documents.
The teller responded, "Bill are you serious?"  She didn't want to call the cops, perhaps fearing for her life, but did anyway.  Gallagher sat down until the police arrived and arrested him.
"About 48 years ago, I'm sitting with a 72-year-old con," Gallagher said during the plea hearing. "And he had been in just about every prison in the country and he did two bids in Wisconsin.  And he said it was the best food, commissary, this, that everything."
Gallagher, who asked for a ten-year sentence, added he talked to fellow inmates at the House of Correction, where he is being held, and learned the old con "was one hundred percent right."
"You ever seen the movie 'Shawshank Redemption?'" Hansher asked.
"That's me.  The librarian guy," Gallagher told Hansher. "Institutionalized, couldn't adjust, everything fell apart, he hung himself.  I'm not hanging myself but, you know, that's it."
Gallagher said that in July, VA doctors in Brooklyn "took cancer out of my back" and found three lymph nodes in his stomach and a nodule on his lung.
"Things were going pretty good and then everything just fell apart," Gallagher said.
"I've never heard of anything like that," said David Liners, state director of WISDOM, a prison reform group. "There's an issue with people getting institutionalized because the one thing you learn about living in prison is living in prison.  Nobody teaches you what to do when you get out."
Baron Walker, who spent 23 years in prison and whose case was featured in the 2016 documentary "Milwaukee 53206," said, "I haven't spoken to anybody who said they actually did it intentionally to get caught." He added, "There is no realistic help given (in prison) to help a person reintegrate into society.  You learn about surviving prison and that's it…You're told in so many words to forget about the outside."
"I'm not crazy, your honor," Gallagher told Hansher, "I'm 68. I just got out. Every day I'm looking at my watch.  Oh, they're in the yard now… Instead of leaving, trying to lead a life out here, I'm thinking about what's going on where I just left."
Sources:
Real life 'Shawshank Redemption': Ex-con robs bank, hoping to be sent back to prison