Three Yale students have filed a class action against the university, claiming its enabling of fraternities means that young students who want to "socialize" have no choice but to attend their parties.
---
Three female Yale students who claim to have been sexually harassed at off-campus parties are filing a class action against the university, claiming its fraternities exert undue influence over the undergraduate social circuit.
In an unusual bid to curtail what they call "a dangerous environment in which sexual misconduct" thrives, the women are asking a federal court to order that fraternities accept women as members too.
CBS reports that the suit is headed by Anna McNeil, Ellie Singer and Ry Walker. All three say they've suffered inappropriate behavior at fraternity parties; they describe what they've endured as all-out assault.
"Someone came up from behind me and started grinding on me and then actually pulled up my skirt," Walker told CBS News' Meg Oliver.
Their lawsuit claims that "female undergraduates risk sexual harassment and assault by attending fraternity parties." Men allegedly "deny female students admission […] based on their appearance, verbally harass them, grind against them, grab them, and grope them."
Oliver asked the women what seems to be an obvious question: "Why do you want to be part of a culture that you're alleging promotes sexual misconduct?"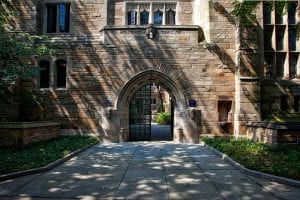 According to McNeil and Walker, young students have 'no choice' but to attend fraternity parties upon arriving to Yale.
"A fraternity party wasn't any of our first choice, but it was kind of the only choice for the first couple months of school," McNeil said.
Walker concurred, saying, "It speaks to the way that fraternities dominate the social culture at Yale. Those are the places that are open late at night. And those are the spaces that some of our friends are hosting parties in."
Along with Yale, the lawsuit targets nine fraternities. The women believe that the gender segregation of Greek life reinforces gender norms and dangerous prejudices.
If the university does anything to discipline wayward fraternity brothers, the plaintiffs claim the effect is marginal.
Yale, for its part, has denied responsibility, noting that it "plays no formal role in the organizations not affiliated with the university, including Greek organizations."
However, the lawsuit's been quick to point out that Yale, despite any formal affiliation, allows fraternity members to use school e-mail addresses, logos and slogans in events. Fraternities also coordinate recruitment drivers on-campus, using Yale buildings and supplies.
Along with alleging that it's impossible to socialize at Yale without engaging fraternities, the plaintiffs believe that all-men's organizations confer unfair advantages to their members.
"Simply put, fraternities elevate men to social gatekeepers and relegate women and non-binary students to sexual objects," the suit says. "Moreover, Yale's fraternities have alumni and professional connections to the business world, including banking and consulting firms, which often result in coveted job offers and economic opportunities."
The New York Times notes that the three women belong to a group called Engender, which uses civil rights-type tactics to try to force fraternities to accept members of the opposite sex.
Sources
Women claiming sexual harassment at Yale fraternities take unexpected legal action
Women Sue Yale Over a Fraternity Culture They Say Enables Harassment