Man claims he set neighbor's home on fire after seeing a spirit outside.
---
California resident Cuong Pham, 38, thought he was just being helpful when he lit his neighbor's house on fire.  After all, it was haunted, and he was just trying to kill a ghost.  Unfortunately for him, the homeowners and law enforcement officers didn't see it that way.
Pham was caught on surveillance video trying to set his neighbor's home in Stockton, just east of San Francisco, on fire after dousing it in fuel because "he was trying to get rid of a ghost," he claimed when the police arrived at the scene.  The man was subsequently arrested for attempted homicide and arson.
An incident report indicates Pham went over to his neighbor's house at 5A.M. and began covering the doorway and porch with diesel fuel.  He left some fuel-soaked rags on the porch.  After emptying the yellow fuel container, he tried to light it.   After numerous failed attempts, Pham walked away from the doorway, apparently deciding to give up.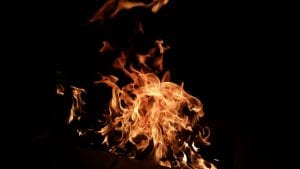 "Several" adults and two children, ages 3 and 10, were inside the home at the time.  The family uses the Ring camera, which alerted them to movement on the porch.  The homeowner spotted her neighbor dousing the property with the flammable liquid at 2:30A.M. and eventually walking away.  They reviewed the footage and called police.
Pham was arrested at his home across the street.  When questioned, he said he saw the spirit outside.  The caller didn't know Pham or why he would want to harm her.   Investigators said if Pham had used petrol, which is far more flammable than diesel, he would probably have killed himself and everyone who was sleeping inside the house.
The man had allegedly bothered the family by incessantly ringing the doorbell on a previous occasion, and he apologized to one of the homeowners, saying that he meant no harm.  But a neighbor did indicate that many of them had been aware of Pham's strange behavior.
"He does this around the neighborhood, rings our doorbells, or asks us to borrow money," the neighbor said.
Another neighbor noted Pham had a history of drug usage and mental illness, causing him to have psychotic episodes.  He had been captured on camera pacing about outside of other homes on numerous occasions.
"You do nothing, you're…innocent," a homeowner said of the random act. "You still get your house almost lit on fire."
Upon reviewing the footage, a neighbor said, "I wasn't scared, I was mad. I wanted to go beat the guy up."
Of course, many homeowners have asserted they've seen the supernatural inside their homes.  Just this month, a family said they have been haunted by a spirit creature most of the past year.  They said they are seeking spiritual help to remove the unwanted guest.  Krishna Mathura, 60, who recently gave an interview about the haunting, said a creature believed to be a buck, three-feet tall in stature, has been seen roaming around his home.  He believes this to be supernatural and insists the fence around him home would keep out any living animals.
The creature, Mathu­ra said, has been eating racing pigeons he's raised, and the family's goats have been poisoned.  Meat has been eaten in the fridge.
So, maybe Pham was simply taking it upon himself to eradicate a similar nuisance?
Sources:
Man is caught on surveillance video trying to set his neighbor's home on fire so he could get rid of a GHOST
California Man Allegedly Attempted To Burn Neighbor's House Down After Seeing Ghost
Man caught pouring diesel onto neighbour's home claims he was trying to kill a ghost