More than 80 women recently filed a lawsuit against Sharp Grossmont Hospital in San Diego, California when they discovered they "were secretly recorded by hidden cameras installed in the hospital's gynecology operating rooms." The suit itself was filed in California Supreme Court and alleges nearly "1,800 women were recorded in the three operating rooms at the hospital's Women's Center" between July 2012 and June 2013.
According to the lawsuit, the hidden cameras recorded everything from emergency C-sections, births, miscarriages, sterilizations, hysterectomies, and many other types of private procedures. Additionally, the videos "depicted the women's faces as they entered the hospital rooms for their operations, some were recorded undressing, and some were unconscious during the course of their procedures." Of the more than 80 women, none were informed they were being recorded.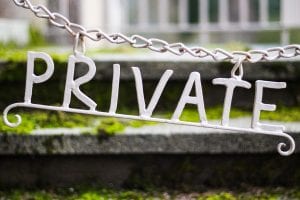 When commenting on the suit, attorney Allison Goddard said, "It's such a shocking breach of patient privacy. I've talked to hundreds of women who were affected by it. The response is nearly universal: they just can't believe it happened." Goddard is representing the plaintiffs.
Why were the cameras installed in the first place? How did such a giant breach of privacy happen? According to John Cihomsky, a spokesperson for Sharp Grossmont, the "cameras were installed on anesthesia carts in the operating rooms to address a drug theft issue at the hospital…The purpose of the three cameras was to ensure patient safety by determining the cause of drugs missing from the carts." He declined to comment further on the matter.
This isn't the first time the 81 or so plaintiffs have tried to sue the hospital, though. In fact, the original class-action suit was filed in 2016 but class-action certification was denied. The plaintiffs didn't give up, though. They re-filed the lawsuit last week and even more women are expected to join the suit. In addition to the privacy complaint, the suit is alleging "the hospital was grossly negligent in storing and protecting the recordings." For example, many of the videos were allegedly "stored on desktop computers, some of which were not password-protected, the complaint states." To make matters worse, the "hospital did not log who accessed the recordings, or when they accessed it." On top of that, "the hospital destroyed at least half of the recordings, but could not confirm whether the files were recoverable." The complaint further states:
"Sharp violated their right to privacy and breached its fiduciary duty in the most egregious way by secretly recording them, allowing non-medical personnel to view the recordings without making any effort to track who was viewing them, and then destroying some of the recordings."
Sources:
Dozens Of Women Are Suing A Hospital That Secretly Recorded Their Gynecology Operations
Lawsuit claims women secretly recorded in San Diego hospital