Police are investigating a crime spree involving 51 vehicle break-ins. Suspects' vehicle has been identified.
---
A lot of effort was put into committing a rather extensive crime in Bowling Green, Ohio, involving multiple vehicle break-ins.  Oddly enough, 51 vehicle break-ins occurred this month in a single crime spree at Varsity Square Apartments and law enforcement officers are trying to get to the bottom of it.
The police arrived at the scene after a call was placed reporting a car with its window smashed in.  After taking a closer look around the complex, they quickly determined more than five dozen vehicles were similarly damaged.  The damage was so immense, officers are sure someone had to have noticed the activity.
"This is something weird because I wouldn't really expect it here," said Bowling Green resident Noah Winslow.  His team searched the apartment complex and surrounding area to no avail.
"I feel sorry for the people who've gotten broken into," said Bowling Green resident Darleye Eye. "There's no sense to that.  It's wrong.  It's not right and they should know it's not right."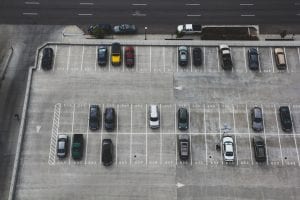 After scaling the lot, detectives reviewed hours of surveillance footage taken at the property, trying to find any clues they could.  They believe they have identified the suspects' vehicle.
Officers say the individuals made off with everything from tools to fishing gears after bashing in the glass of vehicles parked in the lot, and they're using these crimes to warn owners about leaving valuables in their cars, even if they take care to lock up.  Thieves are often skilled at busting in windows quickly and snatching whatever they can inside.
"If there's anything inside the compartment it might give somebody the idea that something of value could be in there," said Lieutenant Daniel Mancuso with Bowling Green police.
As the search continues, officers also want neighbors to be on the lookout, so they can get the perpetrators off the streets.  The department added the following post to its social media sites:
"Bowling Green, Ohio, experienced the same crimes over the past few days.  Please remember to remove any items that may look fruitful to the miscreants that are committing these acts.  Do not leave large amounts of change in your center console or cup holders."
They are hoping that someone heard the glass being broken or witnessed the thieves making off with the stolen valuables.  These items could have been placed for sale online or pawned at local shops.  There's a chance, too, officers warn, that the criminals are not done with their spree and will continue to vandalize vehicles in the area looking for more goods.
"If you hear car alarms going off, obviously, broken glass, anything like that, call the police division right away that way we can get an officer in route," said Mancuso.
In the meantime, there will be an increase to the number of patrol vehicle in the area.  Residents are being asked to call 911 immediately if they see or hear anything suspicious or have information related to the case.  They can also contact the Bowling Green Police Division at (419) 352-1131 or Wood County CrimeStoppers at 1-800-54-CRIME.
Sources:
Bowling Green police looking for people behind string of 51 vehicle break-ins
Bowling Green Police Investigate Numerous Vehicle Break-Ins