Convicted killer Jonathon Bijeol is suing the officers and EMTs who saved his life one month before he got high on meth and killed an innocent man.
---
A New Hampshire man convicted of murder is suing the city of Manchester, saying the way he was restrained in ambulance a month before his arrest was illegal and unconstitutional.
The Manchester Ink Link reports that the suit was filed by Jonathon "Frenchy" Bijeol in U.S. District Court last week. He's representing himself in a case against Manchester a half-dozen law enforcement officials. Named as defendants are Officer Victoria Catano, Sgt. Richard W. Brennan, Sgt. Michael Biron, Capt. Michael J. Begley and the city's former police chief, Enoch Willard.
The 37-year old inmate is serving 30-years-to-life for beating a man to death in 2016.
One month before his arrest, Bijeol overdosed on heroin. After grabbing a cab, Bijeol lost consciousness.
"As he drove him, [the taxi driver] could see Bijeol nodding off […] He attempted to wake Bijeol by yelling through the partition and banging on to it," responding officer Victoria Catano wrote in an incident report.
When Bijeol continued to remain unresponsive, the taxi driver pulled over and called 911. A dispatcher instructed the cabbie to pull Bijeol out of the vehicle and begin CPR.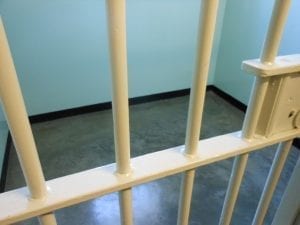 Suspecting a drug overdose, first responders used a double-dose of Narcan to revive the man. To administer it, Bijeol's shorts were cut. Officers and emergency personnel claim that, along with a set of keys, a small bag full of a hard-packed white substance tumbled out.
After the injection brought him back, Bijeol was allegedly placed in a choke-hold. To restrain further restrain and control the drug-addled man, officers also twisted Bijeol's wrist.
He was kept handcuffed all the way to a local hospital. There, he remained immobilized and kept cuffed to a gurney in a "painful position."
Upon his release, writes the Ink Link, Bijeol was charged with drug possession. But the case never went ahead, with all counts dropped within a week.
It's an unusual lawsuit. The Ink Link notes that Bijeol's building his case off state law, which dictates "a person who in good faith requests, or is the subject of a good faith request for medical assistance, shall not be arrested, prosecuted, or convicted for possessing, or having under his or her control, a controlled drug in violation of RSA 318-6:2, if the evidence for the charge was gained as a proximate result of the request for medical assistance."
Bijeol says Manchester police broke that law when he was taken into custody after his overdose, then held him without charge.
Less than a month later, Bijeol beat 61-year old Manchester resident Richard Carlson to death. Bijeol, notes the Union Leader, claims to have been high on methamphetamine at the time of the crime.
Sources
Convicted killer sues Manchester first responders who saved his life after drug overdose
Man serving time for murder files lawsuit from prison against the city, MPD officers