A marriage counselor was just named as a defendant in a lawsuit over the 2019 murder of Christian Moore-Rouse.
---
The mother of Christian Moore-Rouse, a victim of a 2019 murder, just filed a lawsuit against the marriage counselor for the parents of the accused killer. The suit alleges the marriage counselor "killer helped the couple cover up the 2019 murder" carried out by the couple's son, Adam Rosenberg.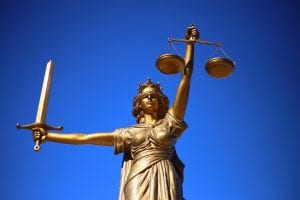 According to the suit filed in Allegheny County Common Pleas Court by T. Lee Rouse, "Adam Rosenberg's parents — Kimberly and Howard Rosenberg, of Fox Chapel — found the firearm used to kill her son and turned it over to their marriage counselor, Martha Laux, who lied to police about how she obtained the gun." For those who don't know, Rosenberg, 23, killed Moore-Rouse, 22, "with a 9mm handgun at the Rosenberg residence in 2019 and transported his body to a wooded area in a nearby public park, where it was later found."
Ms. Rouse also claims Rosenberg's parents "were somewhat aware of what had happened to her son, either through the publicity garnered by his apparent disappearance or because Mr. Rosenberg may have told them what happened or if they had found the gun and realized it was used for a crime." The parents also "took possession of the handgun and gave it to their marriage counselor, Ms. Laux of Counseling and Wellness Center of Pittsburgh LLC," according to the suit.
In handing over the gun to Laux, the parents "were attempting to hinder or stop the case against their son," the suit argues. To make matters worse, the marriage counselor "took the gun to the Allegheny County Police but told them that she had found it while walking her dog." The complaint states:
"Defendant Laux made that false statement to the police in an effort to prevent or delay the arrest and prosecution of Adam Rosenberg."
Because of that false statement, the "investigation was delayed for several weeks until Mr. Moore-Rouse's decaying remains were found in the wooded area where his body was abandoned."
When asked to comment on the allegations in the suit, Lt. Venerando Costa with the Allegheny County Police said they were just that: allegations. It is not yet clear whether a new investigation has been launched.
For now, Ms. Rouse is seeking punitive and compensatory damages from the Rosenbergs, Laux, and the Counseling and Wellness Center of Pittsburgh. She has already sued the shooter for wrongful death. Rosenberg is also being charged with the 2020 murder of 28-year-old Jeremy Dentel.
Sources:
Mother of man killed in 2019 alleges parents, counselor hid evidence in Fox Chapel murder
A treacherous journey: Christian Moore-Rouse's last ride ended in death