Michigan's attorney general is calling on Michigan State University leadership to release the results of its internal investigation on Larry Nassar.
In a letter written Monday, Attorney General Bill Schuette asked MSU President Lou Anna Simon to send his office "the internal review that former U.S. Attorney Patrick Fitzgerald is conducting into the actions of Lawrence Nassar while employed by Michigan State University."
According to The Lansing State Journal, MSU spokesman Jason Cody said Simon received the letter, but hasn't yet gotten the chance to review its content. He wouldn't provide any further comment.
"Fitzgerald [sic] findings will be critical to understanding the full picture of what, if any, responsibility other persons may have had regarding Mr. Nassar's criminal conduct. Releasing the findings to the proper law enforcement authorities […] is essential to ensure that a complete and thorough investigation into Mr. Nassar's actions is conducted," wrote Schuette in his Monday letter.
Michigan State University is now facing a multitude of lawsuits filed by former gymnasts who claim to have been molested by Nassar.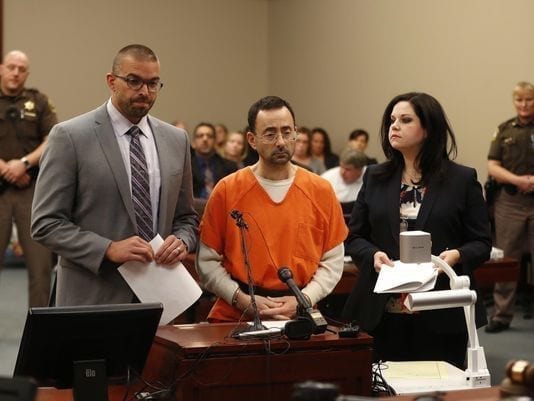 An estimate by the Detroit News – using the Jerry Sandusky scandal at Penn State as a guide – pegs the potential cost of settlements at over $1 billion.
In the aftermath of the Sandusky debacle, some 36 lawsuits were filed against Penn State.
"MSU is nearly five times bigger in terms of the number of victims," says David Mittleman, an attorney for one of Nassar's victims. "This could easily top $1 billion."
The Detroit News notes that Michigan State may have a hard time defending the actions of some employees who unintentionally aided Nassar's predation. Among them is former gymnastics coach Kathie Klages, who dismissed the complaints of her students as unfounded and frivolous.
Klages later went on to retire and claim a pension from the university.
Nassar himself recently pled guilty to seven counts of sexual assault – a fraction of what he'd been charged with, according to Business Insider.
The former Olympic Gymnastics physician will be sentenced in January.
As part of Nassar's plea deal, all of the 125 women who lodged assault complaints with the Michigan State Police will be allowed to read statements at his sentencing hearing. Business Insider surmises that Nassar will face at least 25 years in prison – and, with the notoriety of his case and the breadth of his crimes, it's likely prosecutors will push for a maximum sentence.
Nassar also pled guilty to child pornography charges. Large amounts of explicit material featuring minors was pulled from his personal computer and laptop, which were found discarded in a waste-bin during a raid on his house.
Sources
AG Schuette wants to know what MSU officials knew about Nassar, seeks details of internal review
Finley: MSU cost in gymnast abuse scandal could top $1B