A Michigan couple has been sentenced after keeping disabled woman in shed.
---
Michael Welch, 40, and Misty George, 32, a Macomb County, Michigan couple accused in 2017 of keeping a 29-year-old disabled woman in a shed and selling her for sexual services, received their sentences this month, according to court records.  They both faced charges of prostitution and human trafficking after having allegedly forced the woman, who was mentally and physically disabled, to do sexual services.  They advertised these online, and George was also ultimately charged with "using a computer to commit a crime."
Welch pleaded guilty to charges including human trafficking and received five to 20 years in prison.  George pleaded no contest to human trafficking and had agreed to testify against Welch over the course of the investigation.  She was sentenced to five years of probation, with credit for more than a year of jail time.  In addition to probation, the woman is prohibited from using the internet until she signs an internet use agreement with the Michigan Department of Corrections, is a registered sex offender and must attend sex offender meetings, and she must submit to random drug testing and attend a program for domestic violence offenders.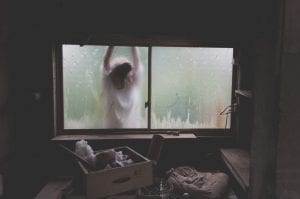 According to police, Welch and George, were believed to be dating each other and living together in the mobile home park.  The couple had let the woman rent a space in their home.  After she became unable to pay her rent, however, they forced her to live in the shed while they solicited sexual services from her.  The woman was barred altogether from using the home's shower and restroom during this time.  A few men answered their advertisements and paid Welch and George for the sexual services.
It was not clear how long she had been in the shed or how she met George and Welch.  But, according to police, the woman was able to leave the shed at one point and that's when family discovered what was happening.
"Instead of helping this profoundly special-needs person, George and Welch took her support money, forced her to live rough in an outside shed, and sold her as a prostitute," Macomb County Prosecutor Eric Smith said. "As your heart breaks for this vulnerable woman, your conscience is shocked by the abusive cruelty one human being is capable of showing to another."  He added, "The Sheriff and the Prosecutor's Office are resolved to bring some measure of justice to this young woman, and to get her the support and treatment she needs."
Welch tried to escape from a police vehicle after he was arraigned and in custody, but officers caught him and returned him to Macomb County Jail where he was hit with additional charges for an on-foot pursuit.  George was ordered to be held on a $75,000 bond while Welch received a $50,000 bond.
Macomb County Sheriff Anthony Wickersham urged parents to check their children's social media accounts for human trafficking warning signs, stating, "Be wary of opportunities that seem to be good to true and always be aware of your surroundings.  Parents are urged to monitor their children's social media accounts and look into those people who associate with your children."
Sources:
Michigan couple sentenced for sex trafficking involving disabled woman
Michigan woman with special needs held in shed and sold for sex by couple, police say