The signing follows months of tenuous negotiations and bipartisan back-and-forth.
---
Michigan Gov. Gretchen Whitmer defied expectations Thursday, signing into law a series of major changes to the state's auto insurance regime.
Whitmer's press conference was held on Mackinac Island, a state park surrounded by Lake Huron—and in which cars aren't allowed. The governor, surrounded by lawmakers from both sides of the political aisle, signaled that the bill's passage and codification would mark a new era of bipartisan cooperation.
"It wasn't always easy. There are moments where we thought it was going to fall apart, but we stuck it through," Whitmer said. "We stayed true to our mutual goal of finding relief for people and not succumb [sic] to partisanship or special interests.
"And today is a model for how we can must continue to move forward. This shows that divided government does not have to look like Washington D.C."
While Whitmer, a Democrat, was elected to replace the state's outgoing Republican governor, Rick Snyder, part of the state's congress has remained conservative—and, shortly after Whitmer's election, proposed rules that would limit the governor's powers.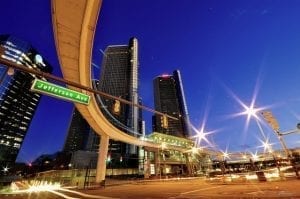 "This historic deal shows that, when we put party aside, we can find common ground on our state's toughest issues to provide realistic and affordable coverage options for drivers across Michigan," Whitmer added.
However, auto insurance reform—at least in Michigan—has long been the purview of Republicans. Michigan has lone had some of the highest premiums in the country, in large part due to its requirement that all drivers carry no-fault policies with unlimited medical benefits.
Some liberal lawmakers and lobbyists have argued that tearing down the personal injury protection (PIP) requirements would sideline Michiganders harmed in catastrophic crashes and accidents.
But the new plan, signed into effect by Whitmer, would allow drivers to completely opt of PIP coverage if they already have healthcare. The Detroit Free Press notes that PIP can account for up to 50% of the premium total on many policies.
Other motorists would have the option of scaling back their PIP levels to various—even those who choose unlimited coverage should still see a 10% reduction in their rates.
The bill also included several provisions from Democrats. Auto insurers in the state can no longer use certain personal or geographical variables in determining and setting rates—gender, marital status, ZIP code and credit scores are now off-limits to the industry.
However, law did catch some flak from liberals for letting underwriters continue to use geographical "territory" when setting rates.
The issue of community and neighborhood has been a longstanding criticism of Michigan auto insurance. While Detroit has higher-than-normal crime, poverty and unemployment rates, auto premiums in the city are among the highest in state and country. Consequently, many motorists are unable to afford even basic protection, putting themselves at risk of both injury and police citation.
MLive.com notes that Whitmer's support of the overhaul was hazy until the legislation was in its final steps. But as the bill progressed, the governor played an increasingly proactive role in getting democrats to lend support to the initiative.
Of course, the law's been condemned in various capacities by the insurance industry and no-fault lobbyists, who suggest that offsetting some costs to consumers might mean they won't end up paying any less for coverage.
Sources
Gov. Whitmer signs bill cutting auto insurance rates for Michigan motorists
Gov. Whitmer signs bill overhauling Michigan auto insurance
Insurance industry warns no-fault reform bill will not save as much as promised
Michigan car insurance bill signed into law by Gov. Gretchen Whitmer