Sharee Miller, who participated in a gruesome 1999 murder, successfully sued the state for retaliation.
---
A Michigan inmate whose crimes attracted national attention is in the news again, this time for winning a court case that guarantees the First Amendment rights of prisoners to report abuse.
Sharee Miller, writes the Detroit Free Press, was convicted in the love-triangle killing of her husband in 1999. A year later, her trial was billed as the first of the internet age. It garnered coverage in the press and online, with Court TV covering her case from start to end.
Nearly two decades after being sentenced to life behind bars, Miller's been back in court. And at the end of July, she won another kind of case—one with the full support of the American Civil Liberties Union, in defense of the First Amendment rights of inmates.
First filed in 2015, Miller's lawsuit recounts and alleges numerous instances of abuse. She said she once saw another inmate stripped naked and hogtied, left for hours with support or relief. Another time, Miller claims, a prisoner was deprived of food and water for so long they began foaming at the mouth. The inmate's condition went downhill so fast she suffered a cardiac arrest and had to be hospitalized.
But Miller didn't keep quiet.
She lodged complaints with staff and officials at the Huron Valley Correctional Facility. When that didn't work, she started communicating with activist groups outside.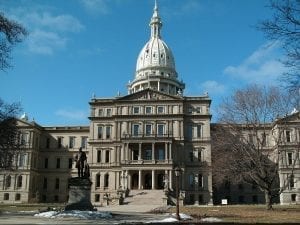 According to her lawsuit—as recapped by the Free Press—her complaints didn't go unnoticed. But rather than seeing them resolved, Miller was fired from her position as an inmate observation aide.
Her job, says the Detroit Free Press, involved keeping a 24-hour watch over troubled inmates, taking notes on their behavior and ensuring they won't harm themselves.
Miller believes she lost her job for trying to protect other prisoners from abuse. Her lawsuit seeks $200,000 in punitive damages, plus $2,500 in lost wages. She also wants U.S. District Judge Sean Cox to prohibit prison corrections officials from punishing observation aides who report wrongdoing.
Along with damages and institutional change, Miller wants her job back, too.
"There's no excuse for abuse or neglect of prisoners," ACLU-Michigan deputy legal director Dan Korobkin said in a statement. "The Department of Corrections did the right thing by changing its policy to recognize that anyone who witnesses such atrocious acts has the right to report the misconduct without the threat of retaliation."
A trial was due to begin at the end of July, but Michigan gave in, agreeing to many of Miller's requests. She'll have her position reinstated, receive compensation for lost wages and have the termination wiped off her record.
But it doesn't appear the state will pay out of any of the punitive damages.
To further prisoners' First Amendment rights to complain and seek justice, observational aides will be provided with contacts and resources to contact in the event they witness wrongdoing but are prevented by confidentiality agreements from freely discussing.
Sources
A look back at Genesee County's most high-profile court cases in 2016
Michigan inmate wins right to report prison abuse to outside agencies