Legislators have been trying in vain to fix Michigan's outrageous auto coverage rates–but a Republican plan has Democrats wondering whether it'll really change anything.
---
While the Michigan Senate has passed legislation that'd overhaul and reduce the state's sky-high auto insurance premiums, Gov. Gretchen Whitmer seems set on a veto.
The bill, writes MLive.com, was approved by 24-14. All of the chamber's Republican members supported the initiative, with Democrats defecting to jump aboard, too.
Proponents say the proposal would like Michiganders customize their insurance premiums. The state currently has some of the highest auto coverage rates in the country, largely due to its guarantee of unlimited medical benefits to persons catastrophically injured in accidents.
The Senate's plan, as passed, would make insurers provide alternatives to unlimited medical coverage. MLive says the bill mandates 'at least three levels of personal injury protection,' set at $250,000, $50,000 and a $200,000 rider for emergency care and no personal injury protection if motorists are already covered by their own health plan.
"Our families are demanding this," said Aric Nesbitt (R-Lawton), the bill's sponsor. "It's time for the death spiral to end. Our constituents are fed up with paying the highest in the nation rates."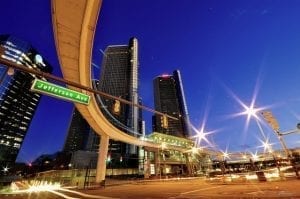 Nesbitt's plan would also call on the state to create an auto insurance fraud overseer, housed within the Michigan State Police. Along with prosecuting individual abuse, it'd monitor the fees charged by hospitals and doctors for auto-related accidents.
Gov. Whitmer has extensively criticized the plan, saying its solutions are superficial and do little to undercut the actual causes of Michigan's high premiums.
"Today's by the Senate creates more problems than it solves. It preserves a corrupt system where insurance companies are allowed to unfairly discriminate in setting rates and the only cuts it guarantees are to drivers' coverage," Whitmer said in a Tuesday statement. "I am only interested in signing a reform bill that is reasonable, fair and protects consumers and this is not it. If this bill comes to my desk, I will veto it."
The Detroit Free Press notes that, before reaching Whitmer, the bill could also run into roadblocks in the state House.
Right now, the Senate's legislation only guarantees relief pursuant to the partial elimination of an annual policy fee that funds the Michigan Catastrophic Claims Association, which provides unlimited medical benefits for in-state motorists. And that's caused critics to wonder whether insurers may simply add on extra fees to make up the difference.
"The people of our state are demanding rate relief and we need to ensure that any reform that we pass delivers on that," said Speaker of the House Lee Chatfield (R-Levering). "So all options are on the table."
Democrats, observes the Free Press, are particularly concerned that the bill doesn't actually guarantee any rate reductions. The only reduction would be the downsizing of the MCCA's annual fee from $192 per vehicle to about $40.
"I was excited to take on this important issue and work together in a bipartisan fashion," said Sen.  Mallory McMorrow (D-Royal Oak). "There was no intent to bring us into the conversation.
"It's so disconcerting that there is nothing that would guarantee rate reductions in this bill," she said.
McMorrow and her fellow Democrats want to see more checks on the sorts of factors auto insurance companies are allowed to consider when customizing individual policies: gender, ZIP codes, marital status and an individual's educational attainment.
The Free Press says that the bill was amended to address some of these concerns, like discrimination in rates based on gender and ZIP codes.
Democratic Sen. Adam Hollier, who voted in favor of Tuesday's proposal, amended the bill to eliminate ZIP-based rates.
"This is something that folks in Detroit have been pushing forever," Hollier said. "There are a number of ZIP codes in the city where people can not get the same type of coverage that you could get otherwise."
However, Hollier admitted that the plan wasn't the best—but if it brings Michiganders some relief, he said he wants to support it.
"Today, I had an opportunity to lower people's rates. Is it the best plan? No," Hollier said. "Although this is the first step, it better not be the last."
Sources
Drastic change to Michigan no-fault auto insurance would reduce annual bill
Senate OKs sweeping changes to Michigan's no-fault insurance law