Mom leaves three children home to die in house fire, while 9-year-old sets mobile home ablaze.
---
Amber Swain, 29, of Macomb County, Michigan is being charged with child abuse after three children perish in a fire at her Eastpointe home.  The children, her two boys and niece, were there alone at the time.  Swain reportedly left Brendon Mahone, 9, his brother, Zyahir Swain, 8, and their cousin Madison Swain, 4, for three hours.  She now faced three counts of second-degree child abuse and up to ten years in prison.
Judge James Maceroni of Macomb County Circuit Court, appointed by Governor John Engler, wrote in his opinion this month that leaving the children home alone "could be viewed as reckless behavior as she knew of the existence of a risk of harm and disregarding that knowledge and risk for leaving the children home alone."
John Dakmak, Swain's attorney, said his client could not have foreseen the house fire.  But, Maceroni disagreed, stating, "The mere act of leaving the children home for that long could be seen as reckless, the standard for second-degree child abuse."  He added, "The issue is whether it was foreseeable that the harm could befall the children if left home alone for a period of three hours."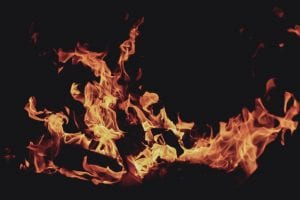 Swain and her adult sister, Lauren, resided in the home, where the two shared a vehicle to commute to work.  Lauren Swain testified that Amber Swain left the home in her car about 3:30 a.m. March 10, 2018, to pick her up at her job in Shelby Township.  Afterwards, they drove to Amber's job at Chrysler Assembly Plant on Van Dyke in Sterling Heights.  After Amber Swain was dropped off, Lauren Swain arrived at the home about 4:40 a.m. where she discovered the house fire.
"She called 911, and neighbors unsuccessfully tried to help her gain entry into the house to get the children out," Maceroni wrote.
Police Officer Mark Barr testified when he arrived Lauren Swain "was near the front porch of the house and was hysterical, yelling that her babies were inside the house."  Yet, officers could not enter due to the conditions.  The bodies were found on the second floor.  Lauren Swain testified that they normally have a babysitter stay at the house but didn't on that day the children were left home to perish in the flames.
"The report said the fire damage was consistent with a time-frame of over three hours with a smoldering fire within the basement ceiling," Maceroni stated.  According to the judge. "An electrical event could not be eliminated as a cause of the fire."
Brenda and Dennis Mosley are the grandparents of the two deceased boys.  Brenda Mosley said, "She has to be held accountable for her actions.  The evidence is there.  If they haven't been left alone, they would still be here."
Meanwhile, in Goodfield, Illinois, a 9-year-old child has been charged with five counts of first-degree murder in connection with a mobile-home fire that occurred in April of this year that caused five individuals to perish.  The juvenile also has been charged with two counts of arson and one count of aggravated arson.  Because the suspect is a minor, his or her identity has not been revealed.
Katrina Alwood, 27 at the time of the fire and her son survived the blaze, having to watch the others perish.  In charging the child, prosecutors contend it was known that others were present when the fire was deliberately set.  The suspect is to be appointed an attorney and will be subject to a bench trial, in front of a judge.  The suspect is likely not to be imprisoned, but rather, receive probation for the incident.
Sources:
Child-abuse charges maintained against women whose children, niece died in Eastpointe fire
Child, 9, charged with murder after Illinois mobile-home fire kills 5