Andrew Anglin and The Daily Stormer have been ordered to pay tens of millions of dollars across various judgments–but, with Anglin's whereabouts unknown, attorneys are hoping they may be able to seize his assets.
---
Attorneys for a Montana real estate agent are hoping to seize the assets of Andrew Anglin, the founding operator of The Daily Stormer.
The Stormer, notes The Associated Press, is a far-right, neo-Nazi website. Most of its members are white supremacists, some of whom have been accused of harassing, assaulting, or otherwise targeting racial and religious minorities for abuse.
More than a year ago, a federal judge in Montana ordered Anglin to pay $14 million to Tanya Gersh.
Anglin, says The A.P., organized a digital "troll storm" against Gersh—who is Jewish—and her family.
In posts on the Stormer, Anglin said that Gersh was participating in some sort of Jewish-led "extortion racket" against the mother of another white nationalist ideologue, Richard Spencer. In supposed retaliation for Gersh "forcing" Spencer's mother to sell her room, Anglin publicized Gersh's address, telephone, and other personal information on his website, alongside pictures of her family members and young son.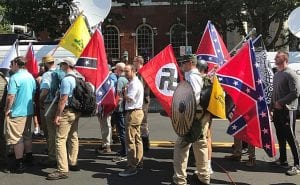 The ensuing "troll storm" led to Gersh receiving a torrent of "hateful" messages and death threats.
However, Anglin's current whereabouts are unknown; rumors on his location are sparse and inconsistent. While Anglin has been reported as living in Russia, he himself has suggested—somewhat paradoxically—that he moved to Lagos, Nigeria, in 2017.
One way or another, attorneys for Gersh say it is clear neither Anglin nor his neo-Nazi organization have any intention of paying the $14 million judgment.
Now, they are hoping to identify and seize Anglin's physical assets in the United States. But that is not likely to be an easy task.
Gersh's Southern Poverty Law Center lawyers have said simply identifying Anglin's assets will be "time-consuming and extremely complex," both because Anglin does not cooperate with authorities and because the neo-Nazi ideologue may retain most of whatever wealth he has in hard-to-trace cryptocurrency.
Numerous other people have won judgments against Anglin. They include Muslim-American host Dean Obeidallah, who Anglin falsely accused of supporting Islamist terror.
Later, Anglin published a malicious article implying that Obeidallah had claimed responsibility for the May 2017 suicide-bombing of an Ariana Grande concert in the United Kingdom.
Obeidallah later won a $4.1 million libel lawsuit against Anglin. But The Associated Press reports that he, like Gersh, has been unable to collect.
Anglin was also sued for instigating violence at the August 2017 "Unite the Right" rally in Charlottesville.
Attorneys say that, no matter Anglin's evasiveness, they will not stop pursuing him.
"We are prepared to follow these defendants around for the rest of their lives to collect on these judgments," said Integrity First for America's executive director, Amy Spitalnick, whose organization is backing the Charlottesville-related lawsuit. "That includes seizing any assets, putting liens on their homes, garnishing wages."
Sources
Daily Stormer Founder Should Pay 'Troll Storm' Victim $14 Million, Judge Says
Lawyers eye neo-Nazi website founder's assets for $14M award
Neo-Nazi website founder owes millions in court fines to victims