The Del Monte recall involving "vegetable trays with fresh broccoli, cauliflower, celery sticks, carrots and dill dip" is still going strong, and now reports from the U.S. Center for Disease Control and Prevention claim the outbreak of "cyclosporiasis has sickened 212 people in four states since May." Of those infected, seven have been hospitalized.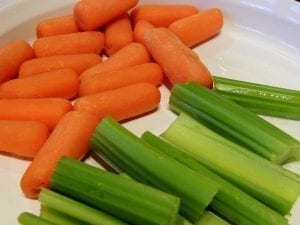 For those who don't know, earlier last month Del Monte issued a recall of three batches of fresh-cut vegetables after it was discovered that the products were "linked to the cyclospora parasite that had already caused 78 people across four states to fall ill" at the time of the recall. According to the recall notice, the Food and Drug Administration (FDA) confirmed that the specific contaminated products include "broccoli, cauliflower, carrots, celery, and dip."
The recall includes "6-,12- and 28-ounce trays in clear, plastic clamshell packaging" that contain the contaminated veggies. Additionally, the trays are marked with a 'Best By' date of June 17, 2018. They were sold throughout Michigan, Iowa, Wisconsin, Minnesota, Indiana, and Illinois in the following stores:
Kwik Trip
Kwik Star
Demond's
Sentry
Potash
Meehan's
Country Market
FoodMax Supermarket
Peapod stores
The first reports of symptoms related to the outbreak began pouring in around May 14 and involve people ranging in ages from 13 to 79-years-old. Cyclospora cayetanensis is nothing to scoff at. It's  a parasite that "generally spreads when a person ingests contaminated food or water." Once infected it can take about a week "for a person to experience symptoms such as nausea, watery or explosive diarrhea, as well as a loss of appetite, weight loss, and bloating." Fortunately, it can be treated with fluids and antibiotics, according to the CDC. However, if left untreated, people may experience symptoms for months or longer.
If you or someone you know thinks they're infected, contact your healthcare provider for treatment.
Sources:
More than 200 people ill from parasite in Del Monte vegetable tray recall
More Than 200 People Fall Ill from Outbreak Linked to Del Monte Fresh Produce Vegetable Trays
Del Monte Recall: 78 People Fall Ill After Parasite Linked to Fresh-Cut Vegetables
Join the Discussion