Native Americans have been hit hard by the crisis and have been largely overlooked, experts say.
---
Native Americans have been hit hard by the opioid epidemic with the second-highest death rate related to opioid use in the U.S, according to the Centers for Disease Control and Prevention.  The CDC found, in 2017, the rate hit 15.7 deaths per 100,000 people.
Native American health experts came together at an event sponsored by the National Indian Health Board this month.  Stacy Bohlen, CEO of the board, said "a number of factors" have contributed to the opioid epidemic among Native Americans.  "One," she said, "is a lack of access to basic health care and treatment when someone is suffering."  Bohlen added, "People can't afford to get care but can certainly afford painkillers…For every dollar you spend in prevention, you save $5 in provision of direct medical care."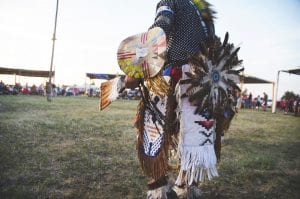 Shervin Aazami, a policy analyst at the health board, said, that the Native American population has largely been overlooked as far as funding is concerned, stating, "This invisibility contributes to the lack of awareness, lack of correct funding, lack of technical assistance and resources directly to the tribes."  Although there is grant money available from the government to combat the crisis, "they often neglect to allocate money towards the tribes, leaving the Native people to sit waiting," Aazami explained.
Virginia Hedrick, director of policy and planning at the California Consortium for Urban Indian Health, spoke of next steps, saying, "What I hope to accomplish is really sharing the data on how our program is effective, sharing information on putting naloxone into the hands of more community members, so that we don't continue to lose more people to overdoses, and to reduce stigma around addiction and to reduce stigma around alternative pain managements."  She added, "It could be that an individual has suffered trauma throughout their life, and an opioid is a way to address a mental health issue.  We don't typically see individuals who are struggling with an addiction that don't have an underlying issue."
Nikki Baker-Limore, who headed the Cherokee child welfare agency until just recently, said more than 1,700 Cherokee children are now in state or tribal custody and at least 40% of those cases are because of opioids.
"This didn't used to be a problem and now it's a huge problem," Baker-Limore said. And because the number of children who need new homes has risen so sharply, it's been impossible to find enough tribal members who can take them."
"There may also be an undercount for Native Americans and Alaska Natives by as much as 35 percent, because death certificates often list them as belonging to another race," warned Dr. Michael Toedt, who is the Indian Health Services' chief medical officer.
Alaska Natives are considered a particularly at-risk population for opioid addiction because of the high rates of painful, rheumatological conditions like arthritis that the natives are known for experiencing.  In 2015, prescribing of opioids reached its peak in Alaska and the state had the highest overdose fatality rate.
According to the Drug Enforcement Administration's database titled the Automation of Reports and Consolidated Orders System, or ARCOS, over a six-year period from 2006 to 2012, nearly six million prescription pain pills were supplied to the city of Juneau, which experts say equates to just under thirty pills per person per year.  In the entire state, that number of was over 138 million.
Sources:
In Cherokee Country, Opioid Crisis Seen as Existential Threat
Native American communities, hard hit by the opioid crisis, seek innovative solutions
Native American Overdose Deaths Surge Since Opioid Epidemic