The HHS is asking that the CDC guidelines be reviewed to consider chronic pain patients.
---
The U.S. Department of Health and Human Services (HHS) is recommending against tapering chronic pain patients off of opioids.  The agency is making this recommendation amid a nationwide addiction crisis in which opioids are being abused by thousands.  HHS is warning that "abrupt changes to a patient's opioid prescription could harm them."
The agency issued new guidelines for physicians on how best to manage opioid prescriptions utilizing a "deliberate approach to lowering doses for chronic pain patients who have been on long-term opioid therapy" rather than abruptly reducing assistance.
"It must be done slowly and carefully," says Adm. Brett P. Giroir, MD, assistant secretary for health for HHS. "If opioids are going to be reduced in a chronic patient it really needs to be done in a patient-centered, compassionate, guided way."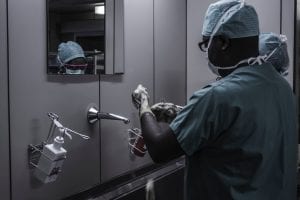 In 2016, the Centers for Disease Control and Prevention (CDC) released prescribing guidelines emphasizing the risk of opioid addiction and overdose.  These guidelines encouraged prescribers to decrease doses, and in response, many physicians began to implement drastic limits, and even cut some patients off altogether.  It seemed, to a large extent, doctors misinterpreted the agency's intentions.
Giroir said it's a matter of some practitioners "interpreting guidelines as mandates."  He added, "A guideline is a guideline it's not a mandate or a rule that works for every single patient."
The HHS is warning that an immediate "removal of the medication can lead to acute withdrawal symptoms, provoke thoughts of suicide and lead patients to seek out illicit opioids as a way to treat their pain or withdrawal symptoms."  It continued, "Unless there are indications of a life-threatening issue, such as warning signs of impending overdose, HHS does not recommend abrupt opioid dose reduction or discontinuation."
"There is a very large body of data across the scientific and medical literature that would say that abrupt discontinuation or abrupt reduction in dosage can be harmful to patients," says Giroir.
In March, more than 300 doctors and other health care professionals, including three former White House Drug Czars, warned the CDC in a letter of the "widespread misapplication" of its 2016 prescribing guidelines.
Dr. Stefan Kertesz, a professor of medicine at the University of Alabama at Birmingham School of Medicine said, "We have to be concerned that the governmental and nongovernmental agencies continue to incentivize dose reductions…and hold no one accountable for harm to patients when doses are forced down across the board."
Kertesz added that Medicaid, as well as state and private payers, still have policies that lead to forced dose reductions, stating, "Until those laws, regulations, quality metrics and criteria are revisited, we will have to live with a heart-breaking conflict between what well-intentioned experts think is good practice and what our health system and laws incentivize…Taper might help some patients if you do it 100% correctly.  And in reality, we are mostly doing it wrong."
Any confusion over the guidelines issued – whether from medical personnel or insurance providers – could have the reverse effect of the HHS and CDC's intentions and lead to an increase in the number of opioid withdrawal deaths or addicts turning to the streets.
Sources:
Don't Force Patients Off Opioids Abruptly, New Guidelines Say, Warning Of Severe Risks
Health Officials Urge Caution in Reducing Opioids for Pain Patients