The ACLU says Minnesota is breaking its own constitution by denying felons on probation and parole the right to vote.
---
The American Civil Liberties Union (ACLU) is suing Minnesota, claiming the state's practice of blocking released felons from voting is unconstitutional.
According to The Huffington Post, forty-eight other states strip convicted felons of their right to participate in elections. Minnesota, though, lets convicts vote, but only after they've completed the terms of their probation and parole.
In total, says the Post, about 81% of all disenfranchised Minnesota residents are felons who've already been released from prison but have yet to finish navigating corrections.
"The number of people barred from voting is appalling. It's appalling, and we must do better," said Elizer Darris, one of four plaintiffs involved in the case.
Darris, notes Minnesota Public Radio, is 35 years old. He spent 17 years behind bars after being convicted of second-degree homicide, and isn't eligible to vote for another half-decade.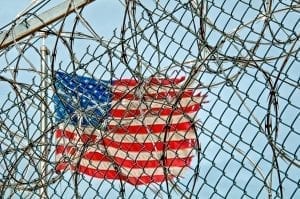 The ACLU is representing three other Minnesotans alongside Darris, all of whom have felony convictions and all of whom served at least some time in jail. The lead plaintiff, Jennifer Schroeder, was convicted of drug possession in 2013. While she only spent a year in county lock-up, her sentence included an additional 40 years of probation—meaning Schroeder won't be eligible to cast a ballot until at least 2053.
"There's absolutely no reason why somebody who has served their time shouldn't be able to participate in our democracy," Schroeder said.
Restricting Schroeder's right to vote while she's on probation, says the American Civil Liberties Union, violates the Minnesota state constitution.
"In many instances, Minnesota citizens who have been convicted of a felony never see the inside of a prison, but are placed on extremely long periods of probation or supervised release that can last for decades," the ACLU wrote in its complaint. "Consequently, these citizens live, work, marry, have kids, send their kids to school, play, shop, pay taxes, volunteer, worship, and otherwise participate in Minnesota communities for years while being denied the right to vote."
ACLU-Minnesota staff attorney David McKinney estimates that as many as 52,000 Minnesotans could be eligible for a restoration of their voting rights if the lawsuit succeeds. That's just about 1% of the state's entire population. Nevertheless, civil rights advocates say that disenfranchisement disproportionately affects people of color—particularly African-Americans, who constitute only 4% of Minnesotans but account for 20% of its vote-ineligible citizenry outside of prison.
"Denying someone the right to vote should never be used as the means of punishment, but rather means for reintegration," McKinney said. "People who vote are more connected to their community and less likely to reoffend."
Sources
ACLU sues Minnesota over voting rights for felons
Minnesota ACLU sues secretary of state over felon voting rights
Minnesota Pointlessly Blocks People From Voting Once They Are Out Of Prison: Lawsuit