However, the court's decision does allow for the case to be fought again, albeit at the state level only.
---
The Supreme Court has discarded a lawsuit which challenged the constitutionality of grossly gerrymandered districts in Michigan.
According to The Hill, the Monday decision reiterates a ruling the Supreme Court made in June. In it, the justices found that questions about and challenges to partisan gerrymandering are not the purview of federal courts.
However, the Supreme Court's repetition of precedent isn't quite a death sentence for the suit. The justices' decision returns the case to the U.S. District Court for the Eastern District of Michigan, where it'll certainly be done away with.
Nevertheless, the Supreme Court's decision does allow for the case to be again fought at the state level—and hopefully, Michigan's judiciary will follow the same logic as their district court counterparts.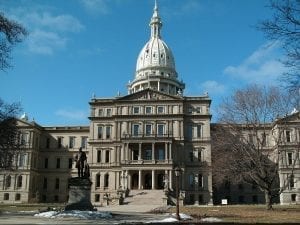 In the Eastern District, a three-judge panel had already determined that 34 of Michigan's legislative and congressional districts needed to be redrafted, as they'd clearly been drawn to favor Republicans.
The Hill recounts how the League of Women Voters, along with some Michigan residents, argued that conservative lawmakers had "engaged in a concerted effort to redraw district lines to benefit Republican candidates while disadvantaging their opponents."
And the district court agreed.
"Federal courts' failure to protect marginalized voters' constitutional rights will only increase the citizenry's growing disenchantment with, and disillusionment in, our democracy, further weaken our democratic institutions, and threaten the credibility of the judicial branch," the panel wrote.
While the case was bound to end up before the Supreme Court, its justices decided to put it on hold as it evaluated similar challenges from Maryland and North Carolina. Then, in June, the court's conservative majority—authored by Chief Justice John Roberts—maintained that districting is a task for state-level politicians.
"Excessive partisanship in districting leads to results that reasonably seem unjust," Roberts wrote. "But the fact that such gerrymandering is 'incompatible with democratic principles,' does not mean that the solution lies with the federal judiciary."
"We conclude that partisan gerrymandering claims present political questions beyond the reach of the federal courts. Federal judges have no license to reallocate political power between the two major political parties, with no plausible grant of authority in the Constitution, and no legal standards to limit and direct their decisions."
The ruling, says The Hill, all but guaranteed Michigan's lawsuit would fizzle out.
Unless a fast-moving suit at the state level forces another reconsideration of gerrymandered districts, current political boundaries will remain in place until at least 2022. A recently-passed Michigan referendum requires that electoral districts now be decided by a bipartisan commission.
Sources
Supreme Court throws out challenge to Michigan electoral map
Supreme Court tosses challenge to Republican-drawn Michigan electoral maps
Supreme Court wipes out ruling on Michigan partisan gerrymander