An infant boy is left for dead in his swing for several days. His parents are to blame, according to prosecutors.
---
21-year-old Iowa resident, Cheyanne Harris, has been found guilty of first-degree murder and child endangerment after leaving her deceased infant son, with a full body infection, in a baby swing for two weeks.  The jury's verdict was reached after only four hours of deliberation.  The boy's father, Zachary Koehn, 29, had already been convicted on the same charges in November 2018.
Harris's son, four-month-old, Sterling Koehn, ultimately lost his life due to "malnutrition, dehydration, and infection."  His diaper had been infested with maggots and insects for days while he was still alive.  The child was found by authorities sitting lifeless in a mechanical swing and weighing less than seven pounds.  He was bleeding from the mouth.
It was determined that the infant had been left unattended in the couple's Alta Vista, Iowa, apartment for some time and the feces in his unchanged diaper had eaten into his skin, causing E.coli to enter his blood stream and ultimately leading to a full body infection.  The warm room he was left in had attracted flies to his unchanged diaper as well.  He was in a bedroom separate from where Koehn, Harris, and their older toddler-aged girl slept.  Forensic specialists determined he had been in the swing for between nine and fourteen days during an autopsy.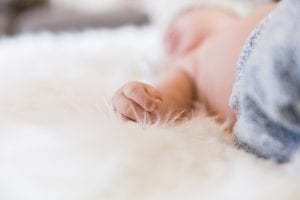 Harris' public defender, Nichole Watt, had argued in court that her client's "mental state played an overwhelming role in the case."  Watt said the tragedy was unplanned and her client did not want to harm Sterling.  She added that Harris suffered from postpartum depression and self-medicated as a result.
In court documents filed after the arrest, Harris reported using methamphetamine two to three weeks prior to her son's death and Koehn said he last used the drug two months prior.  During the trial, Watt filed a notice of defenses noting "diminished responsibility due to intoxication."
During the trial, Harris admitted she should have checked on her son more often and a babysitter who acted has a witness testified the first time she had babysat, the infant had a raw diaper rash and seemed underweight.  She was left with him and a 2-year-old girl for seventeen hours.
Koehn dialed 911 on Aug. 30, 2017 and suggested to the dispatcher that "the child had died of sudden infant death syndrome," according to prosecutors.
"This was not an accident," Assistant Iowa Attorney General Coleman McAllister said. "That was a cover story concocted by this defendant to cover the awful truth."
When he took the stand in his own defense, Koehn blamed Harris, stating he had "put his trust in the wrong person."  Yet, under cross-examination, he admitted he "took better care of his dog than he did the infant."   Sterling's father was sentenced to life in prison without the possibility of parole.
It wasn't that the young couple couldn't afford to care for their children, either, investigators found – they just didn't.  Koehn made $45,000 a year and had access to health insurance as a truck driver who hauled chickens from Wisconsin to Charles City, Iowa, the prosecutors said, and a deputy said the case facts "go far beyond neglect."
Sources:
IOWA MOM LEFT DEAD, MAGGOT-INFESTED BABY IN SWING FOR UP TO TWO WEEKS
Iowa mother guilty of murder in death of infant found in baby swing
He let Sterling rot': Iowa father guilty of murder in death of his maggot-infested infant