Neighbors feud over yoga move on the beach.
---
Sheila Jacklin, a designer, and her husband Nigel, a marketing consultant had a falling out with their neighbors after a dispute over building work.  In 2013, clinical psychologist Dr. Stephane Duckett and his partner, Norinne Betjemann, bought a workshop opposite the Jacklins' five-bedroom house.  The workshop was converted into a weekend property.  This upset the Jacklins so much.  They viewed it as an invasion of privacy, especially for Sheila, who does her meditations and yoga on the beach.  So, they complained to local authorities.
Instead of police doing anything about the workshop, however, the Jacklins were handed a Community Protection Warning Letter (CPWL), the prelude to a Community Protection Notice (CPN), which stated that they could "not walk past the neighbor's home," and authorities warned the Jacklins that they could be prosecuted if they were even to be "perceived by any person to be looking into any neighbor's property."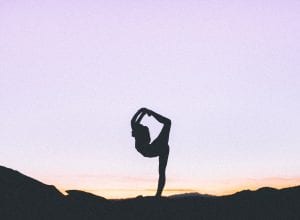 "I'm desperately sad that this has happened," Sheila Jacklin said. "I put on a brave face, because you have to.  But I am deeply sad."  She added, "[The exclusion zone] looks as if someone's got a red crayon and gone 'round [an arbitrary area].  There's no logic to it."
Nigel added of the turmoil the couple has been through, "The police failed to investigate our side of the story.  They treated us like criminals even though we had reported problems with Dr. Duckett and Ms.  Betjemann for five years.  We live by the beach because we like to go to the sea; this action prevents us from enjoying the beautiful location we live in."
Josie Appleton from the Manifesto Club, which campaigns for civil liberties, said CPNs are "very hard to appeal," adding, "A CPN can literally be written on a form, and after that it's a crime for you to do what they say you do.  I really think that councils are not in the position to be issuing these legal sanctions against people.  It's a completely arbitrary power. And where you have arbitrary powers you have bad law enforcement."
Simon Blackburn from the Local Government Association, argues that CPNs are a valuable tool, stating, "Local authorities aren't going around looking for problems.  They're responding to issues – very serious issues, often – that are reported to them.  And we have a duty to protect the public, and we take that duty very seriously."
A Home Office spokesperson said, "We are clear that Community Protection Orders should be used proportionately to tackle anti-social behavior."
This warning expired this fall.  So, like she has done for nearly three decades, Sheila went to the beach out front and continued with her daily routine of yoga and prayers, ending the session with a Mudra symbolic gesture with her fingers.  The neighbors perceived this to be an offensive middle-finger gesture, and attempted to impose a new restraining order on her, which a magistrate chose not to enforce.
Sheila said, "This has been a sustained campaign of racial and religiously motivated harassment of my family by our neighbors and Sussex Police.  This should never have come to court.  I told the police it was to do with my Indian heritage and my yogic prayers.  It's been a total attack on Hinduism and highly offensive to call my Mudra an 'F-you' gesture."
Sources:
Mother, 53, is hauled to court over 'rude' gesture that turned out to be yoga after neighbours at her seaside home accused the designer of harassment
The couple banned from staring through neighbours' windows
Couple in pink house banned from looking into neighbour's home