With Gov. Newsom's signature, Senate Bill 40 became law. Why doesn't everyone support this common sense anti-corruption legislation?
---
Last Tuesday, California Governor Gavin Newsom signed Senate Bill 40 into law. SB40 appears to be fairly bland administrivia concerned with legal ethics and regulating some aspects of practicing law in California.
The new legislation introduces the possibility of raising the annual licensing fee from $390 (or so) to an as-yet-unspecified amount, which has been described as "a significant step towards maintaining high ethical standards in the legal field." It's unclear how raising the financial barrier to entry and rationing by cost would filter out would-be attorneys whose legal ethics are questionable, unless the practice of law follows the rules of "prosperity theology," in which wealth serves as a proxy for moral soundness. (Here in this world, how often is that true?) More likely, higher legal licensing fees reflect the higher costs we're experiencing for everything else.
The clause that's drawing the most attention, however, concerns the responsibility of California's attorneys to report professional misconduct. Specifically, Section 1(a)(2), which requires a "licensee of the State Bar who knows that another licensee has conspired to engage in, or has engaged in, treason, sedition, or insurrection against the State of California or the United States, shall inform the State Bar."
Whoa, treason! Time to whip out the tinfoil hats, folks! Danger, Will Robinson!
Or is it?
Professional lawyers are already expected to maintain high moral standards and protect the integrity of the vocation by reporting violations to the appropriate authorities. Whole books have been written to provide guidance for legal practitioners on the subject. Without a doubt, treason, being the only crime expressly defined by the Constitution, would rank as a serious violation of legal ethics, followed closely by sedition and insurrection. One could expect to be suspended, perhaps even disbarred, for the commission of such a felony, with or without the gentle reminder provided by California law.
Isn't this already "settled law?"
Perhaps, then, what's unique and unexpected about the passage of Senate Bill 40 is that it was a straight party-line vote. Democrats gave it the thumbs-up, Republicans not so much.
Because of course.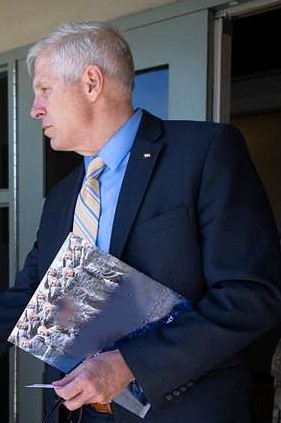 According to the author of the bill, California State Senator Thomas Umberg (D-34), the legislation was inspired at least in part by the antics of a formerly prominent attorney, Thomas Girardi, who had inappropriately close financial connections with the State Bar despite being under investigation for breaches of legal ethics, including accusations of stealing millions of dollars from injured clients during his career and a federal court finding that Girardi had pocketed $2 million that had been awarded to the families of victims of a 2018 plane crash. More recently, he was indicted by federal grand juries on charges of embezzling $18 million from clients. A report found that 130 complaints had been filed with the Bar against Girardi between 1982 and 2021; one wonders why it took so long to root him out.
Another likely inspiration for the need for greater transparency is indicted Trump lawyer John Eastman. Eastman, who boarded the Trump Train before the 2020 election to assist with "anticipated post-election litigation," currently faces disbarment in California for his contribution to the plot to overturn the election results by having former Vice President Mike Pence refuse to count the electoral votes and punt it to the House of Representatives. A member of the California Bar since 1997, Eastman is now charged with violating legal ethics requirements via acts of "moral turpitude, dishonesty and corruption," according to State Bar allegations which Eastman disputes.
When they put it like that, it's easy to see why the California legislature and Governor Newsom want to clean up the legal profession in the state. Senate Bill 40 simply drives home the point, "if you see something, say something." Lest abuse of the legislation be used to harass or intimidate one's peers and prevent them from doing their jobs, it would be considered professional misconduct to submit a false report. It would even protect the sacred trust of attorney-client privilege.
With such a clear need for greater transparency, a deeper commitment to legal ethics, and improved methods for rooting out corruption in the system, one wonders why any patriotic advocates of "law and order" would fail to support this legislative effort.
Related: Dr. King, Unity, and the Putsch
Sources: