Grewal notes that his directive still lets sheriffs and other law enforcement agencies direct dangerous suspects to federal immigration authorities,
---
New Jersey Attorney General Gurbir Grewal announced on Friday that state law enforcement agencies cannot pursue any sort of partnership with U.S. Immigration and Customs Enforcement (ICE).
As NorthJersey.com reports, the move places strict limits on when and how police can cooperate with federal immigration officials. Grewal's move seems designed to counter the designs of two South Jersey sheriffs, both of whom have 287(g) agreements with ICE.
The 287(g) agreements, says NorthJersey.com, allow certain, specially trained sheriff's deputies to act as immigration agents inside county jails.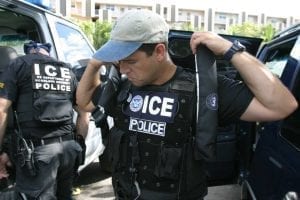 It's a program pushed and publicized by sheriff's departments in Monmouth and Cap May counties. Both agencies renewed partnership agreements with ICE earlier this year, even though Grewal had issued a directive that sheriffs seek approval from the Attorney General's office for any such contracts.
Grewal, perturbed, specifically asked why either county needed to collaborate with ICE.
"The goal of the Immigrant Trust Directive is clear—to make it easier for New Jersey's law enforcement officers to solve crimes and ensure the safety of all 9 million people in our state by building trust with our large and diverse immigrant community," Grewal said Friday. "Because of the bright line between New Jersey law enforcement officers and federal civil immigration agents, immigrants can come forward as victims and witnesses of crimes without fear of reprisal."
Grewal's logic underpins sanctuary-style rules and laws across the country: that undocumented immigrants are more likely to report crimes and partake in court proceedings if they don't have to worry about being detained and deported.
Monmouth County Sheriff Shaun Golden, though, says the A.G.'s call makes a "disappointing day for law enforcement."
"Law enforcement throughout Monmouth County never wants to be faced with a situation where a dangerous, undocumented immigrant is released from jail and poses a threat to a community," Golden said. "However, this sanctuary directive will make our communities less safe, since it places people in those communities at risk for increased violence."
Grewal says there's nothing in his directive that'd stop police officers from arresting criminals and putting dangerous offenders behind bars. As NorthJersey.com notes, Grewal's Immigrant Trust Directive lets state, county and local law enforcement agencies notify ICE whenever they detain an immigrant who's been issued final orders of removal or has been charged with violent, series offenses, such as rape, murder or assault.
"We are the ones arresting them in the first place, we are the ones who are going out there investigation violations of state law, whatever the crime may be," he said. "We are the ones who are then prosecuting them in court."
Sources
Grewal blocks two N.J. counties from having immigration enforcement agreements with ICE
NJ Attorney General blocks ICE agreements with county jails, intensifying standoff