The Ohio Supreme Court disbars attorney for misrepresenting himself to a client in a divorce case and his prior disciplinary record.
---
The Ohio Supreme Court disbarred Cincinnati-area attorney Rodger William Moore, originally of Alexandria, Kentucky, in a recent opinion for sending a female client an invoice for nearly $10,000 after he had agreed to represent her for free.  The attorney had a prior discipline record.
According to the decision, Moore had promised to represent the woman in her divorce case for free in December 2014 after she expressed concern that her legal aid attorney could not sufficiently handle the proceedings.  Less than four weeks into the representation, Moore sent the woman an invoice for $9,500, evidently telling her she would not have to pay it.  He had only given it to her because he planned to seek an award of attorney fees in the case.
Court documents, however, indicated Moore never requested the attorney fees after he told his client this.  Instead, in April 2015, he drafted an $11,000 promissory note and asked her to sign it.  She agreed to pay because she was "destitute and desperate to maintain Moore's representation."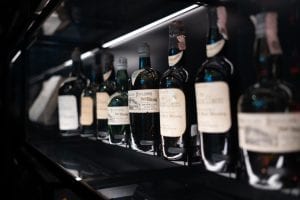 Moore already had a record of discipline.  He was previously suspended in Ohio in June 2015 for failing to fully disclose a history of shoplifting.  He had been arrested in Atlanta in 2001 for "trying to leave a Kroger store with a dozen bottles of wine worth about $140," according to a February 2016 order for reciprocal discipline in the state of Kentucky.  He was ordered to complete community service.  Then, in 2012, Moore was prosecuted for taking three bottles of wine and olive oil to a self-checkout and scanning fake universal product codes to save nearly $400.
A day after Moore's June 2015 suspension first began, he accompanied the woman to court and told her he would try to represent her at the proceeding even though he had just been suspended.  "The magistrate told Moore that he had to leave the courtroom," the Ohio Supreme Court said.  "The magistrate ultimately continued the hearing to permit [the woman] to find alternative representation."
The court further revealed, "A lawyer who shared office space with Moore took over the case at Moore's suggestion.  This lawyer filed a breach-of-contract lawsuit against the woman in September 2016.  The suit sought payment on behalf of Moore's law office based on the promissory note."
Eventually, a custody battle commenced in the woman's case and the scope of Moore's involvement changed significantly.  Thus, he said he offered her a "flat-fee deal, which the client immediately accepted without blinking."  The note he drafted, according to Moore, allowed the client to defer payments until he graduated and was able to obtain employment.  However, at one point, he began contacting her, asking her to make payments. She didn't respond, so Moore filed a lawsuit.
During the hearing before the Ohio Supreme Court, Moore indicated his marriage ended in 2012 and he fell into a deep depression that clouded his decision-making.  He had asked that this be taken into consideration while the court determined whether to allow him to keep his license.
Afterwards he said, "I do not think that disbarment was a 'fair and just' penalty, based on the severe depression involved at the beginning of the process and the inherent unfairness and misconduct involved in the investigation and disciplinary hearing process in this matter."
Sources:
Greater Cincinnati Attorney Suspended for Repeated Shoplifting
Lawyer previously suspended for wine theft is disbarred for breaking promise of free representation