Oklahoma's Attorney General believes the 'family company,' Johnson & Johnson acted as the kingpin in the opioid drug crisis.
---
While Purdue Pharma, the maker of OxyContin, has taken the spotlight in the lawsuits targeting opioids manufacturers who many believe helped to fuel the crisis, Oklahoma Attorney General Mike Hunter believes Johnson & Johnson (J &J) actually acted as the kingpin, "serving as a top supplier, seller and lobbyist."  Court documents recently revealed attorneys general are trying to cast a wider net to hold those accountable in the global opioid market rather than in the United States alone, and J&J's just might soon take center stage.
As the supplier and source of the materials used to manufacture these opioid drugs, J&J, which markets itself as a 'family company' could actually be responsible for the epidemic.  "J&J lacks any legitimate justification for depriving the families it has destroyed, as well as the public at large, from learning the truth," the state's filing reads.
The first major trial pertaining to the crisis set to begin in May of this year.  This highly visible litigation will serve as a jumping off point for similar lawsuits that have been filed in other states, as well as the consolidated lawsuit underway in Ohio.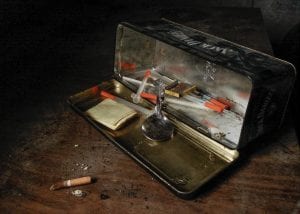 Hunter has asked the Oklahoma state court to publicly release millions of pages of confidential documents that J&J submitted during the discovery phase of the case which he believes will serve to show that the company should be held responsible.  "The public interest in this information is urgent, enduring and overwhelming," he wrote, especially considering J&J has an extensive history with prescription painkillers.
If one takes a closer look at the portfolio of the 'family company,' Hunter argues, they will find that it "produced raw narcotics in Tasmanian poppy fields, created other active opioid ingredients, and then supplied the products to other opioid drug manufacturers like Purdue Pharma."
In fact, J&J specifically stated one of its opium poppies "enabled the growth of oxycodone" in investor slides and said the morphine content of a different poppy was "the highest in the world."  J&J sold the two subsidiaries that handled that business, Noramco and Tasmanian Alkaloids, to a private equity firm in 2016 for $650 million, unloading these from its portfolio, but, one might argue, only after the damage had already been done.  J&J also sold off Nucynta, an opioid pill it had marketed, for $1 billion in 2015.  It still sells a powerful fentanyl patch, Duragesic, that had peak sales of $2 billion in 2004.
Hunter said, "J&J targeted vulnerable populations, including children and older adults, for painkiller prescriptions."  He added, "J&J funded groups that aggressively advocated for easy access to opioids."  The company has also "funded several pro-opioid groups, such as the Pain Care Forum."
Hunter explained that because J&J sold off its opioid businesses, the documents regarding these matters should be disclosed and made available for public view.  After all, they are no longer considered trade secrets.  J&J responded denied their release, however, stating that the move was made to "sensationalistic headlines and to poison potential jurors."  Its attorneys also said that "even if the motion advanced a legitimate purpose," it would violate the court's processes.
Sources:
Exclusive: Lawsuit says Johnson & Johnson was opioid "kingpin"
Court Documents: Johnson & Johnson Was 'Kingpin' In Opioid Epidemic And Targeted Children, Elderly With Marketing